For the big Dark Knight weekend we had the pleasure of staying at The Water Club at the Borgata in Atlantic City. When I first walked in I noticed how grandiose the design was. It's huge, but sparsely decorated, which I enjoy. I'm a fan of big open spaces and super high ceilings what can I say? The folks at the front desk tended to our every need. They even asked if they could make dinner reservations for us, and we actually took them up on their offer. We went to Wolfgang Puck's American Grille in the Borgata. You would think I'm the Million Dollar Man Ted DiBiase with all this, but I'm far from it! I had the Almond Crusted Salmon with Horseradish Potato Puree and red wine reduction. That's just a fancy schmancy way of saying Salmon topped with Almonds and mashed potatoes. As you could imagine, the presentation of the entrée was excellent and the meal was superb.

When we got into our room I saw an interactive plasma hanging on the wall that welcomed us by name. It had all of the visitor info and check out info as well. The room was decorated in beige and brown earth tones. I expected no less than a Cisco IP phone on the desk and leather pillows against the headboard. The room featured the most comfortable bed and pillows which were as good if not better than the Borgata's.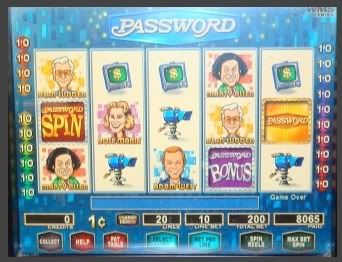 As if you haven't had enough Batman already, I had an Adam West sighting on the trip. This time he wasn't in person, he was starring in a Password slot machine game. In other Batman news it'll be Joker week at Eclectorama! Go check it out and continue on your high from The Dark Knight! I also had to basically beat a couple of guys off the new Indiana Jones (pictured below) machines with a stick to get to play one for 5 minutes. And lose most of my money in the process.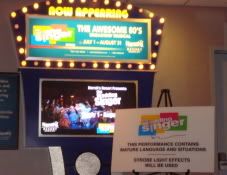 We also got comp tickets to see a live version of The Wedding Singer. This was a show on Broadway but now it's over at Harrah's Resort until the end of August. There's no big name actors in it but I thought it would be fun to see since I am a fan of the movie and a total '80s freak. The transition from screen to stage wasn't an easy one for The Wedding Singer. There plenty of '80s references and a few really good one liners but it almost seemed like it was better off as a movie. The play is made up of original songs written for the stage show which all fell short and were not catchy at all. Two songs from the film appeared such as the humorous delivery of "Somebody Kill Me Please," which wound up getting alot of laughs because of the way the actor playing Robbie actually "sang" the song instead of screamed it ala angry Adam Sandler. The other was "I Want To Grow Old With You." If you plan on seeing this show, I warn you of the abomination that is the guy who played the Billy Idol impersonator. His part was "Billy Idol impersonator" and he wasn't convincing at all…but the Tina Turner impersonator on the other hand, went over big! It's worth seeing only if you got a comp ticket offer like we did.