Why should I beat a dead Kevin Bacon and sound completely redundant when I know damn well that more in depth information about the relationship between Friday the 13th and New Jersey exists all over the place? (You can visit
Weird NJ
for the best in New Jersey lore, myths, and legends.) What inspires me to touch on the subject here at the Armpit is that I find myself baffled. I often speak to people locally that have no idea that the first
Friday the 13th film
was filmed right here in our very own state of New Jersey! I can't expect everyone to be obsessed with horror movies, but how about some awareness of pop culture history folks? To assume that everyone knows that Camp Crystal Lake was actually Camp NoBeBoSco is definitely pushing it.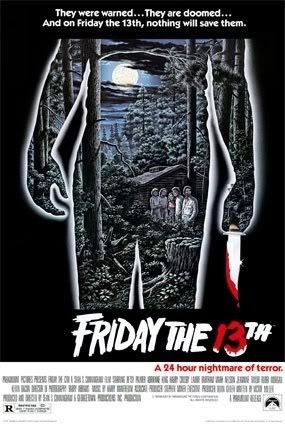 In anticipation of the new version of Friday the 13th hitting theaters in a few weeks (2/13/09), I figured I'd brag a little bit about New Jersey being the place where the legend of Jason Voorhees began.
The unbelievable website
Friday the 13
th
films.com
, offers a thorough tour through the New Jersey sites that appear in the film. The site offers a "then and now" look at Blairstown, Hope, and Hardwick Township, New Jersey. It's fascinating to see how the screen shots match up to photos taken close to 6 years ago. The rest of the films in the series completely ignored New Jersey as a filming location, possibly because of the exorbitant fees associated with filming here. The Friday the 13th franchise further snubbed N.J by choosing to have Jason "take" a certain place that eternally shadows New Jersey in part 8.
The township of Blairstown seems to be embracing it's starring role in the iconic 1980 horror film. Check out the
Blairstown Theater Festival website
which also details the township's connection with Friday the 13th.
"On July 13, 2007, Friday the 13th was screened for the first time on Blairstown's Main Street in the very theater which appears shortly after the opening credits. Overflowing crowds forced the Blairstown Theater Festival, the sponsoring organization, to add an extra screening at 11:00 PM. The event was covered by local media and New York City's Channel 11."