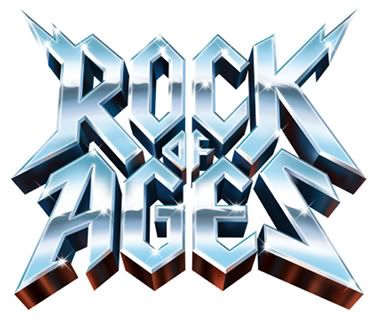 If David Coverdale says you're a dick, then you probably are. In my estimation, you've got to be an idiot not to immediately rip the silly bluetooth off your ear after hearing a concise, eloquently spoken admonishment by the lead singer of such rock classics as "Here I Go Again," "Still of the Night," and "Slow and Easy." If I may, in this review I'll attempt to use Mr. Coverdale's professional sounding articulation while expressing my thoughts on the musical 
Rock of Ages,
that I witnessed on April 4th, 2009 in New York City. IT'S AN '80s ROCK EXTRAVAGANZA NOW PLAYING AT THE BROOKS ATKINSON THEATRE IN NEW YORK CITY!!! Sorry, I admit, that was completely out of hand and uncalled for. I won't let it happen again.
In no time, the nostalgic musical Rock of Ages went from "off Broadway" to being the best thing going on Broadway. (
Click here for my review the off-Broadway ROA show
) If you were lucky enough to see the show in it's inception, you'll be pleased to know that it still contains all of the "kick assery" of it's original run…um…I mean, of course, that it's essence has remained in tact. Our favorite joint on the Sunset Strip, The Bourbon Room, is being threatened to be demolished by evil developers who obviously don't like to ROCK. Well, F#*$ THOSE MOTHERF—ERS!! Thankfully, my favorite fictional rock song
"Beaver Hunt"
was not compromised. RIGHT ON MOTHERF—ERS!  Wait, what am I saying?!?! I apologize for that off color outburst, how rude of me? As I was saying, I experienced feelings of absolute elation when I got to hear "Beaver Hunt" once again, and bless you if it's your first time. Just hearing those few seconds of the song is worth the price of admission alone. There's still enough
Arby's
references to fill the catering carts up with a lifetime supply of Chicken Bacon & Swiss sandwiches. OK OK WE GET IT! THE WRITER'S OF THE SHOW WANT TO MAKE LOVE TO ARBY'S! …oh…I did it again. Shame on me.
HOW COULD YOU EVER MODIFY SUCH AN AWESOME SHOW? WHAT IS WRONG WITH THE PRODUCERS? Ahhh. Deep breath. Exhale. Pop some Xanax. The cast of the original run of
Rock of Ages
was unstoppable and distinct. Only a couple of characters have been recast in an effort to re-tool the show for it's Broadway run. Decisions regarding the cast, some plot points, and choreography have made the show more comical, hence it's billing as a MUSICAL COMEDY. People love "the funny" so that's always a WIN, but the play had more realism in it's original form. Depending on what you want out of your Broadway productions, the latest incarnation of Rock of Ages still delivers "The Best of Both Worlds" and that wasn't meant to be a Van Hagar reference, but now you're stuck with it.
I DIDN'T F&!%$N VOTE FOR THIS GUY WHEN HE WAS ON AMERICAN IDOL SO WHY THE F&%$ SHOULD I WATCH HIM IN A BROADWAY PLAY? OK, now I think I'm just developing
coprolalia
. The reason why you haven't been completely sold on Constantine Maroulis is because you haven't seen him belt out fiery tunes like
Twisted Sister's
"I Wanna Rock,"
Steve Perry's
"Oh Sherrie," and
Foreigner's
'I've Been Waiting for a Girl Like You." Clearly you MUST experience Maroulis' character Drew putting some of his hilarious moves on his love interest. 3 words: Berry Wine Coolers.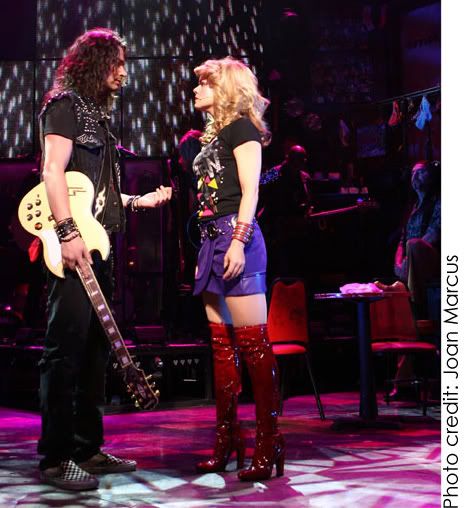 To fill the colossal shoes of the talented Kelli Barrett, Amy Spanger takes over the role of Drew's love interest, Sherrie. Spanger was superb as Sherrie but the character has changed since the off Broadway run. Her character has become almost entirely comedic which makes replacing Barrett with Spanger like removing Natalie Portman in favor of Anna Faris. They're both skilled actresses, but in different ways. Spanger plays Sherrie as an airhead with big dreams of L.A., while Barrett's Sherrie was innocent, torn, and confused (cue up Night Ranger's "Sister Christian"). Similar to many young girls back in the '80s with big dreams, Barrett's Sherrie looked to the Sunset Strip as a haven that could solve her problems and bring her happiness. Her aspirations begin to burn out when she realizes the Strip doesn't make dreams, in fact, more often than not, it breaks them. Spanger's Sherrie elicits more laughs as a dumb blonde who is never sullen for too long, even when she's reduced to working as a dancer at a seedy strip club.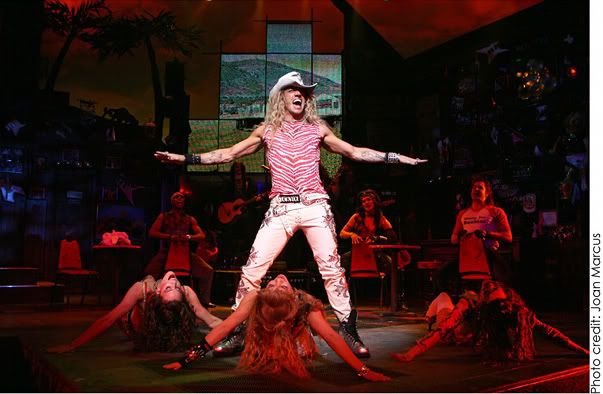 As Stacee Jaxx, lead singer of the fictional band Arsenel, James Carpinello manages to slam home his performance in a role that was so perfectly created by the great Will Swenson.  Jaxx is the quintessential egomaniacal '80s LEAD ATTENTION WHORE, ahem…I mean singer who sucks up every bit of the spotlight he can. Meanwhile, several other vital cast members have returned in addition to Maroulis.  The animated Mitchell Jarvis owns the play as Lonny, the narrator and all around insti"gay"tor. His one liners are expertly delivered, his facial expressions are priceless, and his nunchucking abilities are first rate. Also making his return as Dennis, owner of The Bourbon Room, is Adam Dannheisser, the lovely Angel Reed as the jail bait groupie, Lauren Molina as Regina (ryhmes with Vagina), Wesley Taylor as the light in the loafers Franz, and Jeremy Woodard as Joey Primo who looks like a Vegas Legends version of Nikki Sixx.
Aside from the Poison/Cheap Trick/Def Leppard package tour this summer, where else can you rock out this much? The ROA soundtrack is comprised of mega popular rock tunes that merge seamlessly together with the action creating a swift pace that will leave you anxious to see it again. Like a tractor beam, Joel Hoekstra of the band shreds his guitar like a madman, pulling us back from our beer and bathroom break. To further create the concert atmosphere, there were numerous occasions when the audience waved a couple of hundred LED lighters back and forth during Poison's "Every Rose Has It's Thorn," Extreme's "More Than Words," and Mr. Big's "To Be With You." I assure you that you will not have a more rocking time on Broadway or anywhere else for that matter! Can
Waiting For Godo
t
,
Blithe Spirit
, and
Next to Normal
take you "High Enough?" I think not. Avoid the package tours that are past their prime and make plans to see the stellar cast of Rock of Ages MELT YOUR FU–ING FACE OFF!!! You know what? This time I'm not sorry! (cue Whitesnake's "Here I Go Again")
Brooks Atkinson Theatre
256 W. 47th Street
New York City