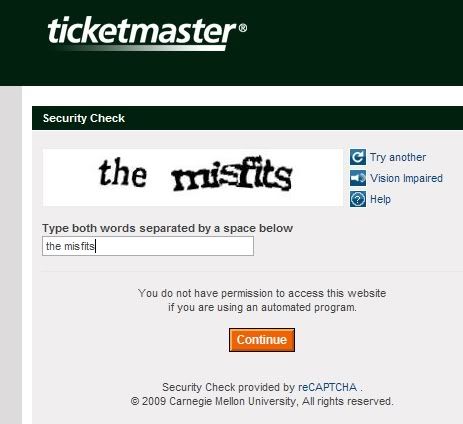 The Misfits mean different things to different people. Classic film buffs know that it stars Marilyn Monroe and Clark Gable, fans of animated chick rock bands know them as the dirty whorish rival band of JEM & The Holograms, but they had no devilock, and no dong either. To fans of horror punk, The Misfits are the KINGS. Although, as it stands, The Misfits never seem to get the credit they deserve. Perhaps they'll be recognized 10 years down the road, in a similar way that KISS has just been nominated for the Rock and Roll Hall of Fame. Until that point, it's the little things that indicate the greatness of The Misfits. The ghoulish band from NJ may not appear on on condoms or caskets, but bet your ass the Misfits have their own CAPTCHA!!!
Forget waiting 20 years, The Captchas were immediately inducted the hall of fame of annoying. Unfortunately, most of us have had a run in with THE CAPTCHAS at one time or another. It's usually never a pleasant experience. After graduating college with honors, I thought I was moderately intelligent until I had to figure out what the hell these dumb little words said. Some programmer came up with these outlandish combinations and they rarely make sense. You can try to decode them, but most times you just get gibberish. Occasionally, the words are so hard to make out that I had a party when I realized there was a "try another" feature. Why even have a "try another" feature? You should be able to figure out what the words say in the first place. These code words are supposed to beef up security for a transaction but they actually waste our time and make me cross eyed.
The secret words are intended to make cracking security more difficult. It merely results in pissing off the end user who's just trying to by some f'n Steel Panther tickets. Wasting precious seconds when trying to procure tickets to a venue that only holds 350 people is not a feature any ticket retailer should offer. I remember physically waiting on line for tickets and I never once had to whisper a secret password to the bouncer before he let us through the rope to the ticket window? I especially don't recall being able to tap the bouncer on the shoulder so he could feed me the secret password in case I forgot it. That would have defeated the purpose of the password to begin with.
Formed in Lodi, NJ, The Misfits will be returning to perform a special miscief night concert in New Jersey at the Starland Ballroom in Sayreville NJ. You can also catch Danzig and Gorgeous Frankenstein there in December.
Danzig and Gorgeous Frankenstein –
12/26/09
Starland Ballroom