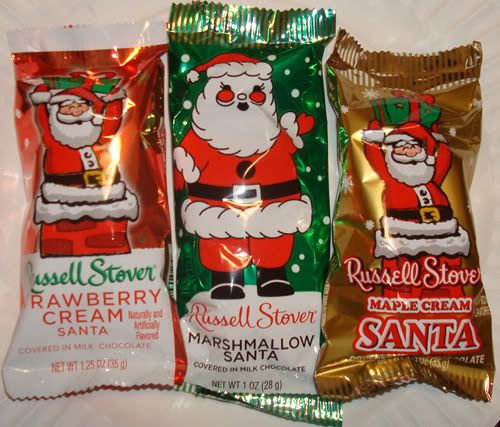 I had myself a Christmas candy bonanza. As if I don't eat enough junk during the holidays, there was still more to be consumed and reviewed. Unlike Easter, Christmas isn't known for it's superb candy as much as it is cookies, but there are a few items worth inhaling. Read on as I make a marshmallow world of my kitchen.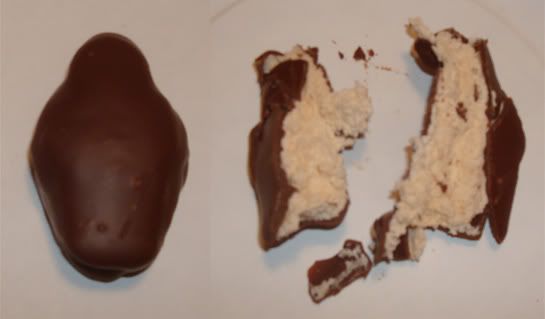 I kicked off this holiday taste test with the Russell Stover's Maple Cream Santa since it was the most enticing to me. I can't remember if I've ever actually had this flavor before, but after one bite I was immediately seduced by it's heavenly consistency and luscious flavor. If you dig maple flavor anything, then mark my words, you will fall in love with this. If you missed out on Russell Stover Christmas candy, then make sure get one of these suckers next year.
At first glance, this basic run of the mill Russell Stover marshmallow Santa Claus might seem like "schwag," (underworld marshmallow slang term for low grade marshamallow) but as always it was completely satisfying. The marshamallow center was moist and more like a whipped marshmallow, not that odd styrofoam type marshmallow like in mallomars or moon pies. This was like eating chocoate with fluff in the center. What's most apparent is that this basic version is the only one that features an actual mold of Santa Claus, and in comparison to the other pear shaped shit nuggets, this one is actually fairly accurate.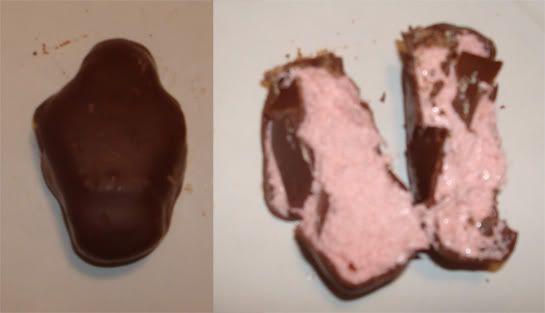 The strawberry cream version was next on the agenda. If you're a fan of strawberry flavor then this will exceed your expectations. The pink filling is moist and the strawberry flavor doesn't taste too artificial, but it's still very sweet of course. Russell Stover seems to have the Christmas candy title all locked up. I'm looking also forward to trying these in dark chocolate, which is my preference, as well as their varieties of mint chocolates.
In a fierce contrast to the aforementioned Russell Stovers chocolates, Melster's Cherry Cordial marshmallow reindeer was an gigantic fail. I've read a few other reviews of Melster marshmallow candy and they haven't been favorable either. What are you trying to pull here Melster? This is an outrage. The mold is terrible, it looks like a siamese cat instead of a reindeer! The cherry flavor goes overboard on sweetness, and the marshmallow is way too fluffy and lacking the creaminess of Russell Stovers. You better step up your game Melster or the elves will stage an intervention!