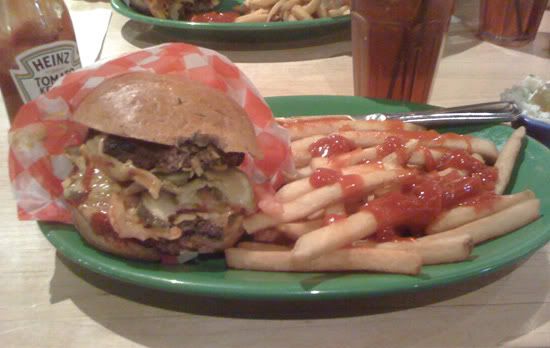 Blitzburgers in North Brunswick
Regardless of America's obesity epidemic, hamburgers seem to be more popular than ever. Blitzburgers is capitalizing on this popularity with their own eclectic array of burgers, along with chicken burgers, hot dogs, salads, sandwiches, and paninis. Perusing the Blitzburgers menu will give you a case of the old momentary "decisions, decisions" disease. You'll really have to use process of elimination to determine which burger you'll order since the menu, specifically their burger repertoire, is so huge. I ordered #21, The All American Burger with American Cheese, pickles, tomatoes, onion, ketchup and mustard, although I was secretly fantasizing about #19, the Jersey Shore Burger which includes pork roll, fried egg, and american cheese, mmm…aka The Burger that WON'T get you abs like The Situation's. The burger was awesome, but the only aspect of it that disappointed me was that it had two patties in it. I was only expecting one and two slabs of meat not only make the burger sloppier, but I also felt kind of disgusting after eating such a gigantic burger. Blitzburgers also has another location in New Brunwick.
468 Renaissance Blvd. East
North Brunswick, NJ
Sliders Bar and Grill in New Brunswick
The Tex Mex Chicken Slider with avocado and monterey jack cheese was a perfect sized portion so I didn't feel stuffed before heading to
The Stress Factory
later that night. The chicken patty was cooked just right and was very flavorful, but my only gripe with this slider was that the bun was too small for the patty. I understand the concept of a mini burger, but the roll did not cover the circumference of the patty, which bothered me. As you can see, the presentation is trendy and more upscale but the prices are very reasonable. The decor at Sliders is very cool, equipped with TV's all around, they boast an awesome bar, and bubbly waitresses who aim to please.
378 George Street
New Brunswick, NJ 08901
My Cuban Rose in Kenilworth
We started with a couple of empanadas and then what was delivered to me was the most massive, gigantic piece of breaded chicken I've ever seen in my life. I originally wanted a pork dish but they were out of the breaded pork entree so I played it safe. The chicken was brought to the table and my girlfriend noticed that it looked like the shape of the United States. At first I wasn't sold, but when you really look at it, it does bare a resemblance, although conspicuous by its absence is Texas. The chicken was crispy, delicious, and very thin. On the side they give the option of black beans and rice, but I recommend the option of the black beans and rice mixed together. I wound up taking much of the dinner home because there was so much food. I think I got another 2 meals out of the leftovers! There's a laid back atmosphere at My Cuban Rose, although the waitresses seemed like they were too busy to pay proper attention to each table. I also had a hard time understanding our waitress since she had a very thick accent. My Cuban Rose also offers catering, takeout, and hand rolled cigars.
625 North Michigan Avenue
Kenilworth, NJ 07033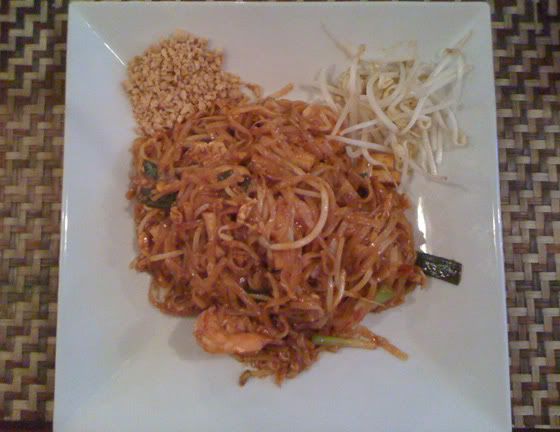 Thai Thai Cuisine in Edison
Thai Thai Cuisine's service was top notch and the food was right on par with the best Thai food that I've had. My girlfriend and I started off with an awesome appetizer of Chicken Satay with peanut sauce. For our meals we ordered the Pad Thai, and I requested mine HOT. It was an exceptional meal and did indeed provide a good amount of heat, but of course I had a gripe. All of the shrimp pieces still had their tails, and that pissed me off because if the tails were removed I could've scarfed down the whole meal without having to pinch out the shrimp meat. I like when that stuff is taken care of by the restaurant before I dig in. It was a minor annoyance but it grew worse when I realized that I ate a piece of shrimp with its tail and I didn't care much for that at all. Overall, Thai Thai Cuisine is a definite winner if you're fan of Thai food. You can also visit their other location in Old Bridge.
Thai Thai Cuisine
Shop Rite Strip Mall
Route 1 and Old Post Road
Edison, NJ 08817