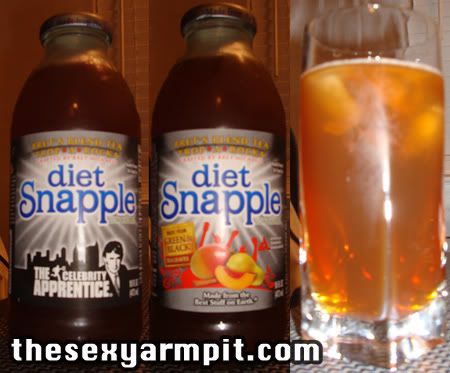 I opened up and said ahhh, and took my first sip of Snapple's latest tea, Trop-A-Rocka, a Celebrity Apprentice tie-in. Donald Trump must have loved all the press Bret Michael's recent health issues stirred up because it only meant a colossal rating for the season finale of his TV show. As the world now knows, even though he was always claiming to be "discombooberated" on the Apprentice, the Poison frontman overcame adversity and triumphed as the winner of The Celebrity Apprentice.
The final project on The Apprentice involved marketing a new Snapple Iced Tea geared toward the contestants prospective charity. Holly Robinson Peete's (aka Officer Hoffs from 21 Jumpstreet) Compassion Berry Tea did not interest me in the least, while Bret's Blend Diet Trop-A-Rocka sounded a little off the wall and right up The Sexy Armpit's alley. My girlfriend had a hell of a time finding the tea driving all over creation, but my suggestion was to go to the local Shop-Rite, and wall-a, that is where she found it!
Bret noted that he wanted the tea to be refreshing and taste great even though it is Diet, and it definitely fits that description. I can't say that I've had a Snapple variety that tastes anything like this. The tea is an oddball bunch of flavors and they are easily detectable. In fact, the fruits on the label aren't even all the flavors that my taste buds were picking up. Pear is clearly the dominant flavor, while there actually is a nice amount of cinnamon, which sounds like it wouldn't ever be an ingredient in a Snapple beverage unless it was something like Thanksgiving Apple Pie Spice, but it works well. Instead of the mango flavor that is advertised on the label, I got some mellow coconut and banana undertones instead.
Some internet sites have received feedback that the beverage has a peach cobbler taste, while others have ripped it claiming it tastes like medicine. For a diet drink that's also a rare TV tie-in, you can't get much better than this, especially for a possibly limited edition fruity summer tea. I would pick it up again because it's not as sickeningly sweet as other Snapple flavors and The Donald's mug is on the label so you can't go wrong. Better track down a bottle for yourself if you want to try it because it's going for $4.25 a bottle with $9.00 shipping on eBay right now!