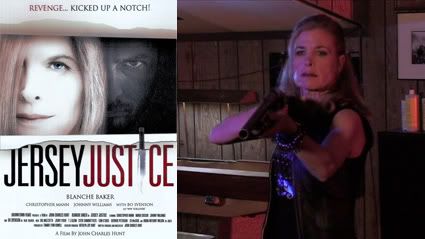 Squeezing my way through the legions of people at this year's Monster Mania Con wasn't fun. Getting stuck behind attendees who stopped at every table to drool over the goods made for a really obnoxious trek around the dealer room. By the time I finished checking out everything of interest to me I was pretty fed up with the crowds and was about to call it a day when my attention was magically summoned to a poster on the wall in front of me. The poster was for an independent film called Jersey Justice, and sitting beneath the poster was it's writer, producer, and director, John Charles Hunt, who was greeting people at his table. Naturally, I launched into curious mode and started rattling him off questions about his film. Without hesitation I picked up a copy after confirming that the film did indeed involve New Jersey. I popped it in and watched it as soon as I got home and it turned out to be the best purchase I made at the convention. 
John Charles Hunt's company,
Browntown Films
, is named after the section of Old Bridge, NJ where he was raised. With 
Jersey Justice
, the company has produced a film that expands on the genre of pulp drive in flicks by infusing a modern edge. For instance, the main character is a woman out for revenge, and while a "final girl" may be the norm in a horror movie, it's a change of pace for this type of film. The story is also timely and deals with relevant issues since it involves the war in the middle east, references to rape, and well as gay/lesbian themes.
Remember Molly Ringwald's sister in Sixteen Candles? The blonde, prim, proper, and perfect-haired bride who pops muscle relaxers? That was actress Blanche Baker and her role in Jersey Justice as middle aged suburban mom Polly O'Bannon is quite a departure from her snotty turn in Sixteen Candles. Polly's son in the armed forces is being held in captivity in Baghdad, and several months after they get word of their sons death, her husband is killed right in front of her. She's now bent on avenging his murder and stops at a gun shop expressing her intent to "hunt wild boar" and needs a gun with "that fast pump action thing…" Together, the gun store scene mingles with jazzy background music to create a fine bit of dark comedy. Later, Polly forces a biker gang to dance to music being played by a bar band. It was priceless.
The humor doesn't end there, but the film also gets serious and balances itself out with tense, dramatic moments. As a fan of comedy, I appreciated the jokes and sharp dialogue. The film's humor is certainly more prominent than the it's poster and ads lead you to believe. There were some outright funny and shlocky moments, like after witnessing Polly's husband get shot, a bystander calls the authorities and says "Yeah, I want to report a dead guy in an alley." The deadpan delivery of lines like that may go over some people's head's, but not most.
The cast was gathered with help from the The Greater Philadelphia Film Office. Bo Svenson and Christopher Mann star along with several actors I haven't seen before, but a few stood out in my mind. As Robbo, Eoin O'Shea reminded me of a sadistic version of Kevin Dillon's Johnny Drama on Entourage, and I definitely would've liked to have seen more of the cute Natalia Jablokov.
As the detective threatening to give his rookie officer an enema with his boot, Jerry Lyden seemed to channel elements of Lt. Harris in Police Academy. The fact that coffee plays such an integral part of the cops job was hysterical, and his obliviousness to DVR was funny, but sadly realistic. Maria Soccor played the spunky bartender Felix Romeo, and when asked where she discovered the hot sauce on the hand trick, she replies "Nature Boy Ric Flair!" And finally, as the bad dude Carlo, T.J Glenn has one of the best lines in the movie: "You have got to be the dumbest bitch in New Jersey!"
The film begins in Pennsylvania but the mood of the film changes when Polly gets into New Jersey. Hunt elaborated to me that "it's like Dorothy leaving Kansas for Oz." Organized crime and biker gangs were instrumental in the plot, so Pennsylvania and Jersey served as perfect backdrops. Unlike the typical Jersey based stuff you've seen like The Sopranos, and The Toxic Avenger, this is a film that features the southern part of Jersey which, aside from Atlantic City, rarely gets much play in movies and TV. Although the majority of the movie was filmed in Doylestown in Bucks County PA, there were several towns in South Jersey that were either filmed in or just mentioned: Atlantic City, Tabernacle, Ocean City, Upper Township, Baptistown, and Woodbury. 
Jersey Justice is unabashedly packed with action, revenge, and it also had me laughing my ass off. For example some guys announce outside a bar that "dikes are in there with a shotgun!" while another replied "…are they naked?" But like I mentioned before, the film isn't an all out comedy, and it did a excellent job maintaining it's social criticisms of the justice system and the treatment of our troops and their families without bogging the film down in drama. Jersey Justice was definitely a fun throwback and kept my eyes glued to the TV. It reminded me of a movie I would've watched on WPIX 11 on Saturday afternoon when I was a kid. So get the DVD, pop some popcorn, grab yourself a cold one, and find out what good ol' fashioned Jersey Justice is all about!
*John Charles Hunt is an awesome guy and was happy to answer my questions. His production company has more projects on the way such as a crime drama called "Pure Life," and a holiday movie called "Christmas Heart," so log on to 
browntownfilms.net
 for the latest and support independent filmmaking!