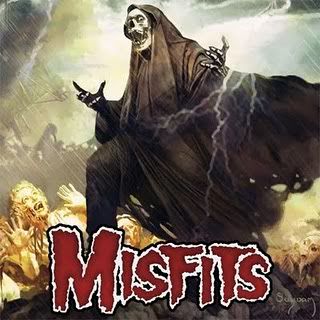 Arthur Suydam's kickass cover art!
October 4th 2011 will be an exciting day for Misfits fans because it marks the release of the first full length Misifts album of new material in about ten years. Many fans abandoned the NJ horror punk group in recent years because of all the lineup changes and direction of the music. Personally, they're still The Misfits to me and the fact that they're keeping the spirit of the band alive is cool. But then again, I'd probably go to see KISS even if there were no original members left. What can I say, I like their music!
The album is called The Devil's Rain and it promises to be a treat for those hardcore fans who hung in there. The album was produced by noted punk producer Ed Stasium and it's said to be a return to the sci-fi themes and monstrous sounds of their past. The Amazon.com sale page describes the album as "not just a continuation of a historic legacy, it's a total reboot ushering in a new era of terror." Sounds good to me.
Also, if you bought the Misfits last 2 singles "Land of the Dead" and "Twilight of the Dead," they have been re-recorded for this album. Recently the band dismissed Robo for Murphy's Law drummer, Eric Arce, now known as "Chupacbra." Hopefully they can stick with this lineup for a while.
I'm looking forward to this new album and it'll be a great addition to my October playlist! Also look out for The Misfits LIVE on tour. Their Halloween show happens on Friday, October 28th 2011 at The Starland Ballroom in Sayreville, NJ. Click HERE for tickets!