If you'd like to know the story of the creation of this t-shirt, read the actual first hand account transcribed below: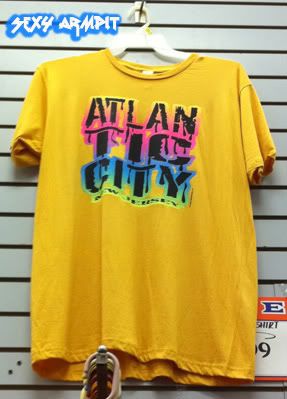 HANK:
"So Bob, what do you say we make a t-shirt?"
BOB:
"Sounds fun Hank!"
HANK:
"How's about we make a shirt for that place we love so much, the world's playground?"
BOB:
"Oh you must mean that dagnabbit place that I gambled away my retirement money away in!"
HANK:
"Of course Bob! But I think we could make a cool million off this t-shirt. What do ya say we just get a yella t-shirt and print the words Atlantic City, New Jersey on it?"
BOB:
"Why that's the best idea you ever had!"
HANK:
"Well ahh shit. Dammit Bob. I just thought of somethin'."
BOB:
"What? What is it pal?"
HANK:
"If we try to fit ATLANTIC CITY all on one line the letters are too small and I can barely read it."
BOB:
…….
"I've got it! What if we continue the letters on the next line like so:"
(motions with his hand)
ATLAN
TIC
CITY 
NEW JERSEY
HANK:
Well, I'll be damned Bob! That's it! Whoever said you were a dope had shit for brains. That there t-shirt will be selling like hot cakes in luxurious dollar stores all along the classy Atlantic City boardwalk, you just watch!