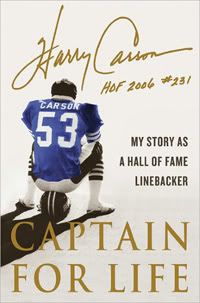 The game of football has, is, and always will be a violent spectacle of human bodies crashing into one another at high speeds, with teams of players vying for victory at all costs. For legendary New York Giants linebacker (and Franklin Lakes resident) Harry Carson, his thirteen year career remained relatively low-key, yet his impressive numbers and his toughness earned him accolades from his fellow players, coaches, and legions of fans all across the country. But it all came at a high price for Carson, who documents his professional and personal highs and lows as member of the Giants and beyond in his new book Captain for Life: My Story as a Hall of Fame Linebacker. Staying free from the controversy that plagued players such as fellow teammate Lawrence Taylor, Carson had his share of drama yet stayed true to himself, his family, and the game, all the while paying for it with his body, the effects he still feels to this day. 
Carson, in a simple prose, charts his journey that started in a small North Carolina town during the time of the segregated South. Despite being small and ill-coordinated, he slowly rose through high school and college as a fearsome defensive end and dedicated student, winning raves both on the field and in the classroom. Drafted by the Giants in 1976, Carson was switched to linebacker and played among such notable players as Brad Van Pelt and Brian Kelley. This defensive trio, dubbed "The Crunch Bunch", was considered one of the best linebacker teams in history. Later, after the drafting of George Martin and Taylor, the Giants rose from a last place team and the joke of football, to winning Super Bowl XXI and securing a place in history. Carson was also elected to the Pro Bowl nine times in his career and later, after much frustration and near misses, he was voted into the Pro Football Hall of Fame in 2006.
But while he was shutting down players and putting up impressive statistics, Carson's body bore the brunt of his physical play as he suffered several injuries; blown knees, torn muscles, and the general grind of his position would take its toll, causing him to eventually retire in 1988. But to Carson, the worse was the repeated hits to his helmet that left its mark on his body; the brain doesn't respond well to collision, and taking multiple hits over time would cause more damage than he would realize. Carson speaks at great length about his battles with Post Concussion Syndrome, an illness that is brought on by one or numerous concussions. Once thought to be a myth in football, it is slowly become more and more prevalent in past and present players. He talks about the subtle signs such as severe headaches and sensitivity to light and noise early in his career to the more serious effects, such as drastic mood swings, slurred speech, and problems with motor coordination, symptoms that continue to afflict him. Carson breaks down the machismo of football players and is honest about his condition, saying that the game is largely responsible and he fears that while only a handful of players have come forward, many are afflicted with PCS yet ignore the many symptoms. In recent years, an alarming number of past players have died, and studies have shown that many have had brain damage that contributed to their demise. Carson now speaks about the importance of recognizing the signs of PCS and travels around the country, speaking to players about the disease in the hopes of warning them before it is too late. He deals with the pain every day, knowing that one day his mental faculties might be fully gone, and is sure that if more people know about the risks, players will think about life beyond football instead of just making the plays.
One thing that sticks out about Carson is his frankness about everything, from his faults as a player early in his career to his bitterness about how his career ended. He also talks about the mystique of a football player, stripping away the glamour to tell it how it is; a game that swallows you mentally, physically, and emotionally. He shares his perspective of the game as a player, detailing what separates players from stars, and how he lasted so long (the average career span of a player is around four years; Carson stayed around for thirteen), competing with veteran players and winning over coaches and fans while staying away from many dangers that derail players; drugs, alcohol, and other scandals. His tell-it-like-it-is attitude and funny insight make Carson both down to earth and a likeable fellow, but his downbeat attitude toward the game that made him a name might turn off some football fans in addition to the lack of any type of photography; it would have been nice to see some pictures here and there. But if you're a true Giants fan or a fan of Carson, Captain for Life is a must for the bookshelf.