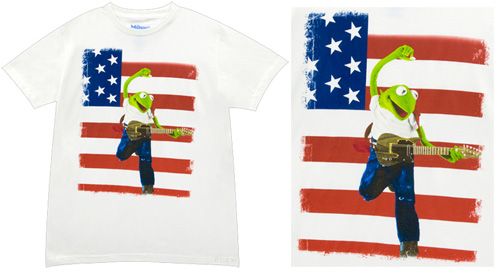 Kermit The Frog Born In The U.S.A T-Shirt
It's not 1984, but Bruce Springsteen AND The Muppets are having a pretty damn great year! Bruce's latest album, Wrecking Ball, (not with the Electric Mayhem, but with the E-Street Band) debuted at #1 on the charts last month and his concerts are selling out like crazy. According to Billboard, this album marks Bruce's TENTH number one album, which ties him with Elvis for third most number ones in history, behind only The Beatles and Jay-Z.
Also enjoying continued success are The Muppets. For many of us, Kermit, Miss Piggy, Gonzo, Fozzy, and Animal have never left our lives, while others were delighted to see their resurgence. Their 2011 comeback film, The Muppets, was the most lucrative film in the Muppet franchise, even nabbing an Academy Award for best song.
The t-shirt pictured above is a Muppet styled parody of Bruce Springsteen's most successful album ever, Born In The U.S.A. Forget about the "Rainbow Connection," there's definitely a Bruce/Kermit connection that needs to be discussed. In both Bruce songs, "Rosalita," and "Wrecking Ball" he references "…the swamps of Jersey." A long time ago, Kermit the Frog was born a little tadpole in the swamp so it's very possible our little green felt friend may have been born here in Jersey rocking out to BRUCE with his banjo!