There can be other variations of "Off Broadway" plays. The play Miss Sexy Armpit and I took in last week was "Off Off OFF Broadway," in which the 3rd OFF is capitalized because we were actually on an island 100 miles away from Broadway…Long Beach Island that is! If you pass through L.B.I, you'll arrive at the quaint shore town of Beach Haven. After a long string of shops and restaurants, The Surflight Theatre resides not far from the ocean. The Surflight Theatre's production of
Once Upon a Time in New Jersey
is running now through September 15th and we checked out a matinee last weekend. If you are thinking to yourself "there's NO way that a play in
Beach Haven
,
NJ
can be any good" think again!
[youtube http://www.youtube.com/watch?v=2aPvLeFVnB4?rel=0]
I had actually been planning on coming to see this play for months ever since I heard about it. Any possibility of it sucking was immediately shoved aside because for some reason I had an overwhelming feeling that I would enjoy it. I had no idea why either. I'm a tough critic when it comes to plays. Back in February we went to see Wicked for the first time and I was just not moved by it at all. I didn't grasp what the thousands and thousands of other theater goers have been going nuts over for years. Wicked tickets are very expensive and they often sell out shows, but it just didn't impress me in the least. Now that all you Wicked fans want to throw a bucket of water on me, let me get back to the play at hand. Here's the synopsis from the official Surflight Theatre website:
"Hoboken New Jersey, 1956: A funny, frantic and frenzied fairy tale about what we do for love. Sweet, shy deli clerk Vinnie switches lives with Rocco, the town stud, to win the heart of the woman he loves. An Italian-American farce about dames, games, foods, feuds, molls, dolls, thugs, lugs, switches, snitches, glitches and mistaken identities… and how a simple sandwich guy becomes a hero."
Once Upon a Time in New Jersey is billed as "The Sopranos Meets Happy Days" and that's a mildly accurate analogy, but that's really selling it short. There's a bunch of other influences as well, including Grease, Grease 2, and elements of any story where 2 people trade places, like Trading Places, Big, Vice Versa, and Like Father, Like Son. And there's also a little bit of Can't Buy Me Love with Patrick Dempsey as he becomes much cooler when he starts dating one of the most popular girls in school. But don't get the wrong impression – the play merely borrows certain aspects of their plots. Sadly, despite the use of the term "hero" and the New Jersey setting, there are no allusions to The Toxic Avenger.
The Surflight Theatre surprised me. If you're from South Jersey and you don't feel like making the trip into Manhattan to see a play, then you're lucky because the Surflight Theatre is a five star alternative. The stage sets were all custom made and it was apparent that a lot of time and effort went into all the details. From the etching on the shiny cloth banners that dropped down from the ceiling to the skyline backdrop, it all greatly enhanced the quality of the production.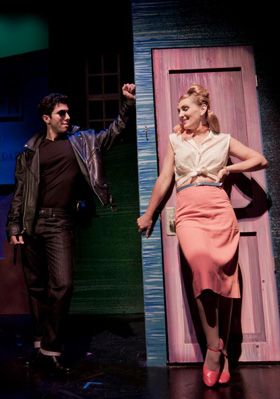 photo credit: Chase Heilman
As for the play itself, the plot is a bit derivative and stuffed like a cannoli with Italian stereotypes, but so what, it works! The majority of the songs are enjoyable, with the most memorable being the catchy opening title number. The cast was literally phenomenal and was comprised of Michael Bernardi, Vincent D'Elia, Crystal Kellogg, Mike Longo, George Psomas, Melissa Rose Hirsch, Marsha Waterbury and more. I've seen around 20 Broadway plays in my life and this cast offers the same performance caliber. Most of the actors have already starred on Broadway and appeared on various TV shows as well. They made us laugh, and made us root for them, and made us really invest in their characters.
Take my word for it, if you are in the South Jersey area then make it a point to get tickets to one of Surflight's upcoming productions. If you're into chick flicks and you can't make it to Once Upon a Time in New Jersey, perhaps you'll be able to check out their next production which is Steel Magnolias. Bring your tissues for that one ladies!
Surflight Theatre
201 Engleside Avenue
Beach Haven, NJ 08008
http://www.surflight.org/