Rules of Engagement
Jeff and his friends winning at a blackjack table 
while their friend Timmy is supposedly bringing them good luck.
I find it to be a challenge to keep up with sitcoms. Every Fall season I see one or two commercials for a new show that I get geared up for, and then, after I watch two episodes, my attraction for them usually fizzles out. Rarely, there's one that I get really into.
Rules of Engagement
wasn't one of them. That doesn't mean that I didn't enjoy the particular episode that we'll be looking at in this post though. Actually, it was mildly amusing and moderately memorable. To be honest, I'd probably be writing that it was
completely
forgettable if the action of this specific episode didn't happen in one of The Sexy Armpit's favorite places, Atlantic City, NJ.
If you've never seen an episode of Rules of Engagement, here's the quick IMDB synopsis:
"Two couples and their single friend, all at different stages in their relationships, deal with the complications of dating, commitment and marriage."
The recently cancelled Rules centers around Jeff (Patrick Warburton) a financial manager who claims he buys socks in New Jersey to avoid paying additional tax on them, and his wife of several years, Audrey (Megyn Price), an editor at Indoor Living magazine.
The show is set in New York. Exactly what part of New York is beyond me. Jeff loves New York sports teams, so it seems like they probably live in a nondescript part of Manhattan, especially since his wife works for a magazine which is likely located in the city. In this episode, everyone wound up about 130 some odd miles away in A.C…at the Taj Mahal to be exact.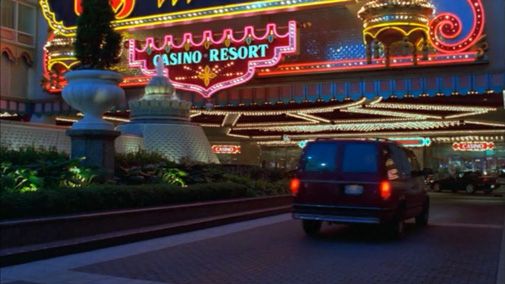 In Season 4 episode 3, "Atlantic City," Jeff is heading down to A.C for a bachelor party, but the plans get squashed after he finds out that the bride has decided to dump the groom at the last minute. Jeff and his friends soldier on because they want to party despite the wedding plans being cancelled. Jeff opts not to inform Audrey about the non-existent bachelor party, but she winds up finding out anyway when she sees the former groom at a local cafe and confronts him.
Rather than sit home and take care of her annoying Aunt Judy, Audrey coerces her friend Jennifer into heading down to Atlantic City along with her, using the enticing offer of a free spa weekend as bait. Her plan is to get Jeff back for lying to her.
Soon, Jeff finds out that Aunt Judy cancelled her visit with Audrey, so for the rest of the episode the two of them make phone calls to each other featuring Aunt Judy impressions, fake doctors, and anything else that would keep up each others lies. Neither of them give up the battle, which is how Miss Sexy Armpit and I would probably act in a situation like this.
This was a decent episode, and I checked out a few others to get a better feel for the show. It's not a classic show, but it's fun for what it is. I enjoyed Patrick Warburton's dry delivery and his chemistry with Megyn Price. They're certainly not written to be the typical TV couple because they share a more realistic, imperfect relationship.
Rules occasionally whips out some pretty snappy dialogue also:
Russell: "Look If I wanted sex with strings attached, I'd bang a marionette."
Timmy: "Now there's a puppet show you don't want the kids to see."
Presently, you can watch Rules of Engagement streaming on Netflix also starring David Spade, Oliver Hudson, and Bianca Kajlich.