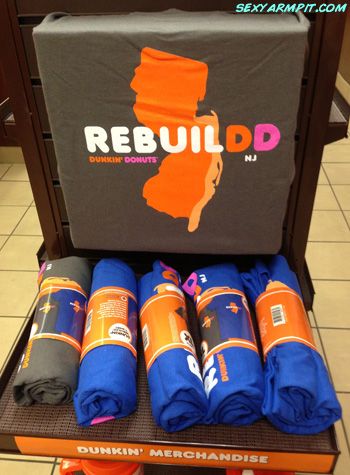 RebuilDD NJ T-Shirt available at Dunkin' Donuts
The weekend shore traffic on the Garden State Parkway is just as busy as it is every summer. It's apparent that the damage from "superstorm" Sandy hasn't deterred people flocking from all over to experience their summer excursions to the Jersey Shore. All the stuff you hear that people from Jersey are "resilient," is not just the news trying to be dramatic – it's true. Same goes for the tri-state area. You may encounter snobbery in L.A, and southern hospitality in Tennessee, but you will not encounter quite the exact same never say die attitude that we have here.
Between the bumper stickers and the t-shirts it seems that Sandy got a lot more press than it deserved, and it's STILL happening. The worst part is, not all of the profits from merch sales are going to beneift the victims of the storm. I like to assume that the ones that are on the level are donating at least a percentage of the profits to people who lost everything in the devastating hurricane.
I haven't been frequenting Dunkin Donuts lately, but the past few times I did happen to stop in before work, I noticed this "Rebuildd NJ" t-shirt for sale. It's good to see Dunkin' Donuts is showing their support for NJ, especially since there's one around every damn corner here. Let's just hope the profits don't go to opening the new franchises they have opening up in California soon.
Check out another NJ/Dunkin Donuts related post: