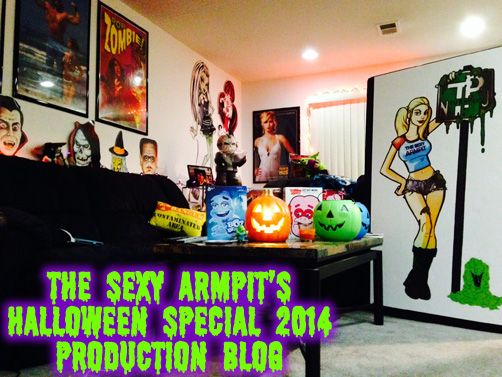 In case you haven't seen it around on social media,
The Sexy Armpit Halloween Special hits YouTube on Friday night!
My previous production update included the colossal bummer of discovering that a full days worth of footage we shot didn't come out. That's the less technical way of putting it, and to keep this post from being 6 pages long, let's leave it at that. Things are a lot more upbeat this time around and I'm psyched to announce that the Halloween special premieres on YouTube this FRIDAY night!
After having our schedule pushed out a week, I can still say that even after getting thrown off by a full week, I am planning on premiering the Halloween special a full week ahead of last years premiere date!
Aside from our schedule being thrown out of whack, I was equally as concerned that the video would surpass 30 minutes. Fortunately, it's not 30 minutes, but it's about as long as a TV sitcom. Now, this would all depend on the way you look at things, but some fans and friends of the site, and even I could lodge the argument that even if we did come in at 30 minutes, it would be 30 minutes of free, independent Halloween goodness that you won't see anywhere else. Plus, it has some of our online cohorts in it as well. Most of the time I prefer 20 minutes to be the absolute maximum, but this time there's more of an actual fleshed out storyline to get wrapped up in.
If you enjoyed our previous 2 Halloween specials, you won't be disappointed! From a personal standpoint, I can't yet comment on which one is my favorite until I watch the finished product on the big screen TV with friends and family to really capture the feel of it. As it stands now, last years Halloween special is my favorite, and possibly my favorite video I've ever made, but in only mere days I'll find out if the 2014 installment edges it out.
For your Halloween enjoyment, I highly recommend you try to watch it on your TV, whether it be a Smart TV or if you have a PS3/4, XBox, Apple TV or Roku. I feel like Michael Cole berating you with information, but in this case, I have this feeling that your experience will be so much better than watching it on a tablet or a phone.
I thank you for reading along with the production updates, and I appreciate all of you who showed support on Twitter, IG, and Facebook! This whole thing, including my site, videos, and everything means so much more when I run into people who legitimately enjoy it. This year the special has been a lot more work and sucked up way more time than ever, but I am proud of it. It gives me the chance to present you with a little something extra during my favorite time of the year. Literally several quarts of sweat went into this video, and I also stained my face, pissed a lot of people off, burned the entire interior of my mouth including my tongue, almost had the cops called on me, and probably gained 7 lbs sitting on my ass writing and editing, but it was worth it.
A huge thanks go out to our small crew of friends (you know who you are) and loved ones who helped make this special happen. Whether you're here with me driving all around New Jersey or you sent me a recorded part your part from across the country, I have nothing but immense appreciation for you.
I haven't had much time to do anything except work on this film for nearly 2 months. It's hard to imagine the amount of hours we've spent making this film, and to consider that I've spent almost triple the amount of hours editing it than we took to film it is pretty nuts. It seems totally preposterous, and even though it's a silly YouTube video, it's still incredible time consuming. Getting back to a normal existence will be welcome. Next year the special is going to be 4 minutes lol.
What's next for me? Most important, I am going to enjoy the rest of October and get right back into the Halloween countdown. I'll be reading your blogs as well. Come back soon for a few more cool posts for the countdown and at least another video, maybe two if I have enough horror and caffeine in me!
BE HERE FOR THE PREMIERE:

FRIDAY NIGHT 10.10.14
THE SEXY ARMPIT HALLOWEEN SPECIAL!