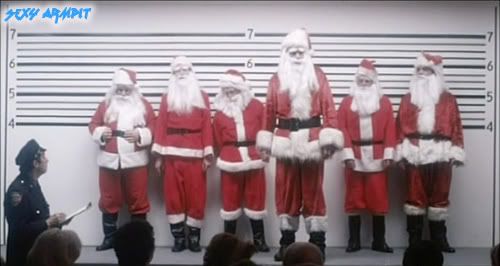 I hope you're not planning on asking Santa for a lifetime subscription to Penthouse magazine or you're in for it. Released the same year as To All a Good Night, Christmas Evil is the true classic of Christmas horror films. If Psycho and Halloween are looked at as pioneering films in the genre, Christmas Evil holds the same honor when it comes to Christmas horror movies. Don't get me wrong, I still love Silent Night, Deadly Night, but the majority of Christmas Evil was actually filmed right here in New Jersey. Originally released as You Better Watch Out and also known as Terror in Toyland, this largely overlooked horror movie offers dark humor and a creepy, yet yuletide atmosphere.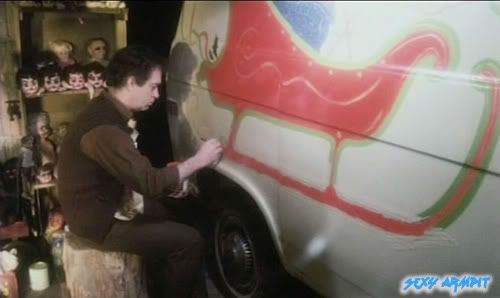 Can you dig it? Santa traded in his sleigh for a custom van!
It's a familiar story, one that has been copied numerous times after the release of both Christmas Evil and To All a Good Night. At the time in 1980, these two films just seemed like cheap throwaway horror film gimmicks, but to many horror film buffs they are classics now.
You can read about Christmas Evil all over the Internet, but the basic gist of it is that on Christmas 1947 little Harry loses his shit and starts cutting himself after witnessing Santa Claus getting naughty with his mother. When Harry realizes it was his father under the Santa suit he grows up wanting to be like the Santa he thought existed. Fast forward to his adult years, Harry has become straight up obsessed with Christmas and becoming Santa. He even keeps a book of all the good and bad kids around town. Dressed as Santa, Harry begins to go on a rampage around town to right all the wrongs he's witnessed in various ways. The difference about this film and other Santa slashers is that Harry is actually playing a moral judge, he's just not going around hacking up everyone in his path.
In the horror sub genre of Christmas or Holiday horror films, there aren't too many that are worth revisiting. Christmas Evil is the type of perennial classic that you can go back to in the same way you re-watch A Christmas Story and How The Grinch Stole Christmas every holiday season. Every time I watch it I wonder why it hasn't been labelled the quintessential Christmas horror movie yet. Is Silent Night Deadly Night better? I don't think it is and neither do my fellow bloggers:
"It's one of my favorite film endings of all time, the absolute perfect end cap to what is a madly magical film." – Freddy in Space
"…the pedigree of most holiday-themed slasher movies isn't very high, but Christmas Evil is pretty exceptional." As perfectly summed up at Marcus' Movie Life
And while I disagree with his Silent Night Deadly Night sentiment, I tend to agree with Charles Tatum's Review overall which states that "Christmas Evil belongs just below Gremlins and Black Christmas and well above Elves and the moronic Silent Night Deadly Night when it comes to the unique Christmas horror genre."
After a little girl says to him "Santa, your shirt's dirty," Harry replies "There's a…a lot of pollution between here and the North Pole." That sure is true, and although it's never claimed outright in the film, the story itself takes place in suburban New Jersey. At least from my countless viewings over the years, aside from a couple of glimpses of NJ license plates, Christmas Evil doesn't mention the state except for thanking Montclair and Glen Ridge in the closing credits.
Also check out Christmas Evil at one of our favorite horror blogs, Kindertrauma!