[youtube http://www.youtube.com/watch?v=P8HFDaHcvEo?rel=0]
MARY HORROR is showing on Tuesday November 20th at 9 PM 
at Clearview Bernardsville Cinema – Admission is $5 Bucks!
All these lame horror clones that make it to theaters not cutting it for you? They're all crap if you ask me. I haven't been satisfied with mainstream horror output in years. Setting my sights on indie horror has yielded much more entertaining results. Indie horror out of New Jersey is even better, it must be something in the water, or better yet, the tomatoes! The most recent film out of Jersey that I had the chance to check out was Mary Horror, a Ryan Scott Weber production. For horror fans, this film literally has it all: murder, a psychiatric hospital, a witches spell book, and someone even loses and eyeball!
Synopsis from the Official Mary Horror website:
Mary Horror is a normal high school senior who has just moved from Salem, Massachusetts to a small corrupt town in New Jersey. Mary's life has not been going the way she planned. Her grandmother has passed away, her best friend Kelly has been missing for almost two weeks, and she suspects her boyfriend of cheating on the eve of her homecoming dance. A distraught Mary comes home to witness her family being brutally murdered. Being the only one to survive, she is put in a psychiatric prison to be "protected." As two years pass by, Mary realizes what really happened that night wasn't what she thought. As the plot unravels, so does Mary. Her time in the ward has changed her into something evil, a member of the walking dead. She realizes the truth and takes revenge on the town and on everyone that wronged her. Follow the life of Mary Horowitz, as she becomes Mary Horror!
Mary Horror exhibits some of the most technically sound independent film work I've seen. Writer/Director Ryan Scott Weber and cinematographer Ryan Coyle soar when it comes to shot composition and incorporating the subtle lighting and Jersey exteriors. Since the movie was filled with interesting settings and the use of real locations such as a hospital and Bernards high school, it all contributed to the realism of the film. The filmmakers were able to build the viewers anticipation as they used their production techniques to suck us into a world that we all could relate to – high school. But that's only the beginning before things spiral out of control for Mary Horowitz. Yes, I said Horowitz…you'll see.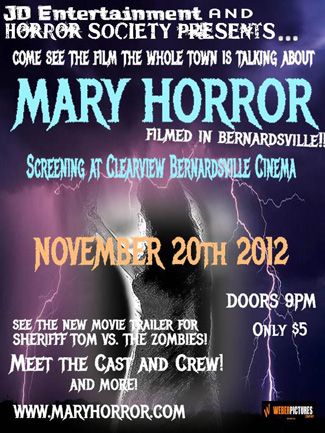 The actors took their jobs very seriously and it was clear that they were all in sync with Weber's vision for the film. Susie Duecker, the actress who played Mary Horror herself, was quite good. It was fun to watch her become so involved in her character. Her transition from typical high school girl to an extremely unhinged one was ghastly and sublime. In my book she really understood the character which is a delicate balance since another actress may have gone on screen acting like a complete over the top psycho and that wasn't the idea. Credit must also go to Ryan Coyle for the makeup as well as the crew in the costume and wardrobe department. Duecker was creepy as hell when she officially became Mary Horror. I only wish mainstream horror filmmakers could take the hint that simplicity can leave such an impression and we don't need to see an hour and a half of lame CGI for the film to be unnerving.
The kickass makeup and practical effects were not used frivolously. The film has an old school horror flair, and although it doesn't take itself too seriously in some scenes (like the one where Weber himself plays an EMT who beats up his co-worker while being interviewed on TV by a reporter) it still retains it's spookiness. Without a huge budget, Weber managed to use subtle lightning and dutch angles to create the eerie atmosphere of the film. I especially dug a scene that utilized a strobe lighting effect as Mary was about to "interact" with 2 other characters. What tied it all together like The Dude's rug was the cinematic quality of Scott Vincent's score. Some parts were so triumphant and joyful, but still sent the message that all is not going to be well.
Without giving too much away, murders take place in the town of Bernardsville, NJ and it creates a hysteria all over town. I've always liked that aspect of horror movies when the whole town is petrified of a killer or going crazy acting like animals because all hell has broken loose. That's captured and mentioned in Mary Horror and now life will imitate art as we have the chance to see a showing of Mary Horror in a Bernardsville movie theater as if we were actually IN THE FILM! The cast and crew will be there and so should you!
Mary Horror is filled with cool cameos. Some of the quick scenes were filmed at Monster Mania while others were full on roles! You'll see Patricia Quinn, Troma's Lloyd Kaufman, Jersey girl and Bernards H.S graduate Deanna Russo, as well as a hilarious cameo from Ghostbuster Ernie Hudson in the film.
Up next from Weber is the sequel to Mary Horror, Sheriff Tom vs. The Zombies. You can see the preview to this if you go to the showing in Bernardsville on 11/20!