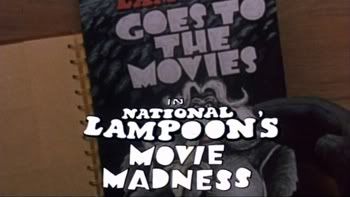 National Lampoon's Movie Madness – wow, what a crapfest. I originally began my mission to see this film because I noticed that Diane Lane had a bit part in it. Luckily, a few years back, the film also known as National Lampoon's Goes to the Movies aired on cable, so I checked it out. I'm sure there's other bloggers and reviewers on the internet who consider this film to be a forgotten gem, but it doesn't have many redeeming qualities, so before you search it out I warn you not to even bother. I'm sure the parody aspect of the film was much more effective back in 1982, but looking back it's weak. Even Diane Lane's role is easily forgotten. I'm usually a fan of weird, dry, and absurd humor, but this film didn't even elicit a chuckle from me.
Ann Dusenberry as Dominique Corsaire, or…Miss Dairy Doll
In the "Success Wanters" segment of the film, the young and attractive Dominique Corsaire (Ann Dusenberry), recently graduated college and is determined to be successful. Corsaire was desperate after failing to find a job within days of graduating, so she becomes a stripper. One night Corsaire has a gig to dance at the National Conference of Presidents of Dairy Companies. She's introduced as Miss Dairy Doll and the presidents heckle her to "show us your tits!" The lords of dairy got so charged up as she was dancing that they rushed the stage with sticks of butter. I'm pretty sure the "butter bang" is not in the kama sutra. Ahh, old dairy moguls and their weird sexual fetishes. (guys, don't get any ideas OK? you're wife probably won't be into that) Corsaire wasn't going to let the incident get her down. Corsaire vowed revenge on the butter industry. She wound up sleeping her way to the top of the Everest Margarine Company, then got busy with a wealthy Greek tycoon and his son, and eventually scored with the President of the United States.
In a slimeball attempt to make Butter and Margarine coexist, Jeff Steele, butter rep, sleeps with Corsaire. His vision for years was that "butter and milk could merge with margarine and other non-dairy creamers." It sounded like a grand scheme, but little does he know that Corsaire's actually using him to take his father, Walter Steele, a supreme overlord of butter, out of the picture. Sounds like the plot of a terrible soap opera, right? Well, not until you find out where Steele took her for a seductive rendezvous…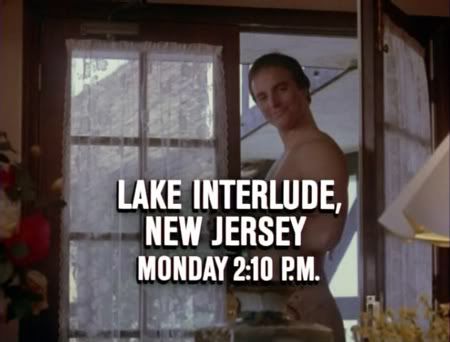 you'll be hard pressed to find a Lake Interlude in New Jersey. 
If you're thinking of pulling a
Jeff Steele
style merger, then you're better off making a rez at
The Loop Inn Motel
, in beautiful Avenel, NJ.