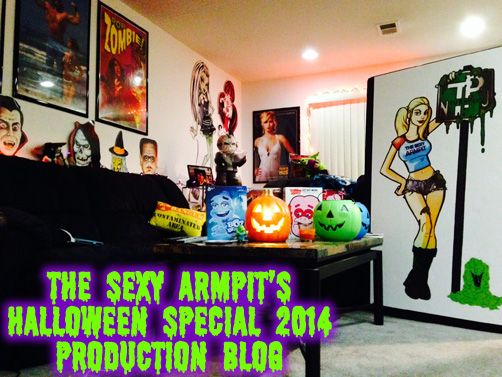 Since we won't be filming the next half of the special until the weekend, I decided to begin cutting the footage we've already shot. I always find an insane amount of joy in watching the raw footage back while editing, it's one of the more enjoyable phases of the process.
Although, even basking in this glorious almost-Autumn weather hasn't been enough to rescue me from feeling a bit distraught. The excitement of Halloween has not yet fully hit me yet because this mammoth undertaking IS A LOT OF DAMN WORK!
I blame myself.
Honestly – writing, "acting," filming, and editing are aspects I certainly adore, but they're all a free-time leech, and prove to be a major distraction from being able to fully enjoy the early part of the Halloween season. By time the season is in full swing, I'm beat up from lack of sleep because I've been editing for weeks and staying up until 2am and then waking up at 5am for work. When Halloween is over, I look back and have no idea where it all went. One of these days I just want to sit back and take it all in. Maybe I'll start recording the special in the spring time? Nah. It just wouldn't feel right.
Like so many of you, Halloween inspires me. The span of September 1st all the way until October's big 3-1 is one huge overload on my brain. I can't even reign in all the ideas I have, nor could I possibly ever execute all the trips, blog posts, and videos that I have on deck. There's just not enough time, especially when one is biting off more than he can chew with a full time job, trying to blog, AND creating a Halloween special for YouTube.
I'm sure there were many people out there who probably watched our last two specials and got nauseated, but I am not here to beat them into submission and staple their eyelids open to watch our ridiculous YouTube video. I'm appreciative and happy about those out there who genuinely enjoy them and plainly see in them the obvious outpouring of love that I have for Halloween, horror films, and pop culture in general. All 3 of those things have literally consumed my entire life, and so has making videos.
For those of you who read blogs in our circles and elsewhere and see the term "labor of love," well, I can tell you for damn sure that that is a real thing.
A crazy expensive professional video camera was first placed in my hand when I was 8 or 9 years old…in the '80s. This thing was GIGANTIC and HEAVY. Seeing a similar reference on The Goldbergs last season was surreal. I'm sure there were others who felt the same way, but I said to myself "Holy shit, that was me!" Hauling around what felt like a 90 pound video camera on my shoulders interviewing family members, recording backyard wrestling events, and acting out movie scenes was common content found on a blank VHS tape at our house. That stuff never stopped, it just evolved. Next it was 8-millimeter, digital cams, and transitioning from old school editing on decks to editing right on the computer, it's been a long journey.
So, to bring that all together, what I'm saying is, as wacky as our videos might be, they actually represent the culmination of many years of passion for horror, comedy, screenwriting, editing, and amateur filmmaking.
Enough of this schmaltzy B.S! Onto the actual production update!
As I mentioned in the first production update, I enjoy the editing process immensely. While the rest of my productions are usually created in a slightly haphazard way, the editing is very methodical.
For only the first half of scenes, we had over 90 minutes of footage. That's deceiving though, because a large chunk of this is raw footage for the intro credits. To clue you in, I've dwindled this all down to 28 minutes, but we have another 2-3 days of filming left. My hope is never make these specials longer than 15 minutes, but it's a major challenge to tell a story properly in such a quick amount of time. I'm hoping this special will be in the range of 15-20 minutes max. If it's more, I'm going to get cranky. Since this is our 3rd special, I owe it to myself to not rush the story and make it the best it can be. Who knows, maybe it will be the best one we've done so far. What I can tell you is that we have some super special cameos that are really icing on the cake.
I can also add that for every tense moment during filming there's about 5 or 6 that make us all laugh and prohibit us from continuing for a few minutes. This type of absurdity has already given us about 5 minutes of outtakes that I really wanted to weave in during the credits, but we shall see how long the film itself is. If the run time is already 20 minutes, I'm going to have to make a separate outtake reel and upload that on it's own.
Another thing I've noticed as I look back on this footage is that I am certainly not Stanley Kubrick, but I just wind up acting like him when we're making these specials. During filming I have no idea that I become a total dick, but it's like I'm possessed. I think I said "let's do it one more time," about 67 times in the first half of footage. Plus that makes editing that much more grueling because for a 3 word sentence I'll have 43 takes filmed. Talk about driving myself mad!
I'm hoping to have all the filming in the can by Monday, save for a few little bits of the intro and a few other very minor details. Once I load that footage in, I'll begin the second phase of editing. Time-wise we seem to be pretty much on target. Thanks for reading and come back again soon to track our progress!