In the midst of the "Frankenstorm" hysteria, nothing could stop the bi-annual
Chiller Theatre convention
. The guest list was more jam-packed than usual this year, which was a good way to usher in the new Chiller venue. For those of you who have stayed away from Chiller for various reasons, this recap will explain why you may want to reconsider and check out the Spring installment.
A castle themed exterior seemed fitting for Chiller Theatre. The expo's relocation to the Sheraton in Parsippany turned out to be positive on all levels. Lines were still long, but not as long and cramped as they were previously. Forget about parking at the hotel, even if you got there early you still had to park across the street. That's not even a bad thing for a couple of reasons. Parking was free no matter where you parked and at least there WAS parking available. So in some respects this was a positive step forward. If they decide to move again it will have to be to some place really big like Metlife Stadium. (That is sarcasm in case you didn't sense it.)
Chiller has grown to become such a huge iconic event. I've been going since I was a kid and it really has become a mega-con. While Monster Mania keeps with the horror theme, Chiller is more of a pop culture event. All kinds of stars came out this year including Joan Collins, Andrew McCarthy, and Samantha Fox. Dustin "Screech" Diamond was even there. There were rockers, wrestlers, pinup models, and artists, although I was only there to meet one guest in particular this year.
I didn't think anything could top last year's Chiller. You might remember when I was sandwiched in between Deb and Hilly from Weird Science. Basically my dream come true since 1985! This year was no exception. Star of Dallas and A Chorus Line, Audrey Landers, announced to yours truly on Twitter that she'd be in New Jersey for the Chiller convention this Fall. I was super excited because she's one of my main celebrity crushes of all time. Getting the chance to meet her sounded great to me, and of course shopping around the dealer tables is always my idea of a good time.
Once she arrived at her table, Audrey looked literally dazzling in a green sequin dress. She was sociable and looking as radiant as ever. Of course what impressed me more was that she saw my Sexy Armpit T-Shirt and recognized me right away "Hey I know you from Twitter!" she said. Very good memory on her! After taking a photo, we chatted about her having a role in the new Dallas series on TNT, the big Halloween parties she has back home, and the hurricane that's threatening the area. From there, it was time to do some shopping.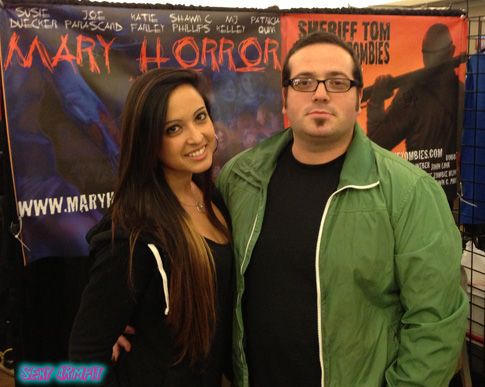 Director of Mary Horror, NJ's own Ryan Scott Weber with Kristen Accardi, a star of 
the sequel to Mary Horror, Sheriff Tom vs. The Zombies
I made it into the dealer rooms and met up with Jess Rajs from Gorgeous and Gory. The brand new zombie pinup calendar is OUT NOW! The theme this year is mermaids! Get yourself one HERE. Also, the official launch party is at Roxy & Dukes in Dunnellen NJ on November 2nd so we will see you there! It was also awesome to finally meet New Jersey's own Ryan Scott Weber the director of 2011's MARY HORROR, which was showing at midnight on Friday and Saturday at Chiller. Review of this cool horror movie is on it's way here at The Sexy Armpit, so be on the lookout!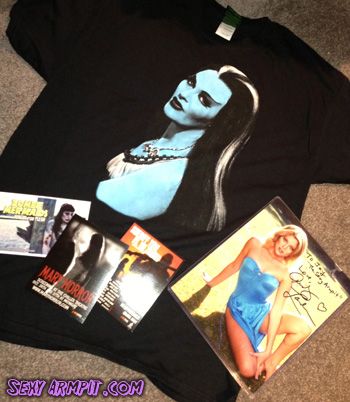 No Chiller Recap is complete without a run-down of what I picked up. My "shopping cart" wasn't too full this year actually – I only bought one thing. I actually bought the first thing that caught my eye which was a Lily Munster T-Shirt. I'd never seen this particular one and I wanted it immediately! It was coincidental because my DVR at home was recording the underwhelming Mockingbird Lane at the same time.
That was the Fall installment of Chiller for me. I had a good time with @exiledinNJ and the new venue was cool. If prior Chiller's left a bad taste in your mouth, I say give it another go in the Spring time. It's definitely improved on some of it's flaws.