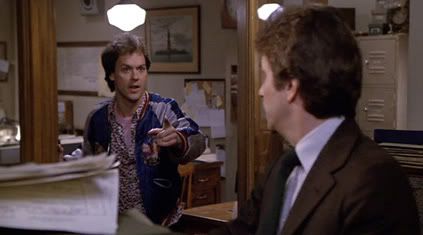 Sure, the line "Take LIVE tuna fish and feed 'em mayonnaise!" may not be as iconic as "Nice f*ckin' model," and definitely not as imitated as "I'm Batman," but it's also from a film in the career of an actor who has personified a multitude of quirky and hilarious characters. Many roles Micheal Keaton has chosen are zany and often outlandish, but those are the ones that continue to make me laugh 'til this day.
One of the early films I wore out on VHS was 1983's Mr. Mom. Jack Butler is still one of my favorite characters ever even though he's a lot more laid back than Bill Blazejowski in his first major movie role in Night Shift the previous year. Night Shift is right up there with Keaton's best work. It's hard to beat the team-up of The Fonz and Michael Keaton as morgue attendants who become pimps and start a brothel.
Keaton's Billy Blaze was always amped up, humming The Rolling Stones "Jumpin' Jack Flash," and chock full of so many ideas that he had to dictate them into his handheld tape recorder so he wouldn't forget them. Sounds a lot like what I do with the notes app on my iPhone. I related to Blaze since I worked the night shift for a few years and it's certainly a whole other culture.
To pass the time, Blaze was always yapping a mile a minute to his partner Chuck (Winkler). A couple of the stories he told involved his trips down to Atlantic City to gamble. I always love watching movies that were filmed in New York City in the '80s and the proximity to A.C is what gives this film that extra coolness. As Blaze told his stories I could just imagine him driving across the river and hopping on the GSP all the way down to Atlantic City, humming Stones songs all the way. In the early '80s A.C was the Northeast's answer to Las Vegas, but according to Blaze "Vegas knows how to treat you right… cause they got broads…and Wayne Newton…"
BILL BLAZEJOWSKI GOES TO ATLANTIC CITY:
"Chuck, I'm really getting good at remembering these cards. (21 jeez!) Boy I'll tell ya Chuck…this weekend is it. This weekend I go to Atlantic City and I do nothing but play blackjack straight through. I'm not even gonna get a room I'm just gonna get those wash'n dries…ya know? Did I tell you I thought of them first?"
"You know I've been working on my blackjack system, right? All right, so, I get down to Atlantic City this weekend and I'm sitting in the casino with my wash'n dries; Did I tell you I had the idea for them first? Anyway I'm sitting there and I'm playing blackjack right…they bar me, they bar me, I'm out, I'm barred, I can't get in now, right. You know why? Being too good a player…"