Welcome to the 2nd installment of the Great Geek Gorge. My latest rundown includes cool stuff I've procured, movies I've seen, and food I've devoured. I'm getting to a point where I have so much media to take in I don't know where to start. Between DVD's to watch and books to read there's not enough time in a weekend to enjoy it all. The real question is, where do I begin?

Thunder Punch He-Man and WWE Rumblers – For several years I had my toy habit in check. I was in total control. The downward spiral began when I became the owner of one of Miss Sexy Armpit's best friend's old curio cabinet. The illuminated cabinet had shelves with glass doors and it gave me the perfect excuse to run rampant down virtual toy aisles and ebay to fill up any open space on the shelves. Folks, trust me, this is not a good idea and I don't recommend it unless you just won the Mega Millions. If you were the winner, you go to sleep with a smile on your face, while I go to sleep knowing that I have the brand spanking new Thunder Punch Punch He-Man. We both win in extremely different ways.
One of the things that soured me on collecting figures and toys was because the items you really want are always impossible to find in stores and then it's off to ebay or an online toy shop where it's going for triple the price of what you could've bought it for at Target or Wal-Mart. The sick part is, it's always dudes like me in their 30s looking for this crap. I never see little kids searching through any of the pegs in the toy aisles. That's precisely why in the extremely rare instances, when I actually do find a certain figure I've been searching for, then it's reason for mini-celebration. I did indeed hold an small inner celebration when I found Cody Rhodes' WWE Rumbler figure. He was advertised on the card backs of Rumblers that have been out for a long time, but the face masked Rhodes figure was nowhere to be found, not even online. For a second I thought it was only smoke and mirrors, but finally, hanging on a peg all the way in the back at Wal-Mart was none other than the present WWE Intercontinental Champion Cody Rhodes/Rey Mysterio 2-pack.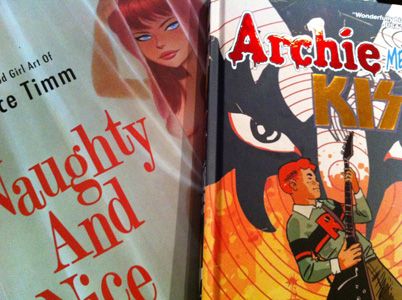 Naughty and Nice: The Good Girl Art of Bruce Timm – If you were a geek before it was cool to be one then you probably adore the art of Bruce Timm. If you aren't familiar with his sublime art you are definitely missing out. Timm is responsible for various DC Universe animation including perhaps the most pure incarnation of Batman ever, Batman: The Animated Series. Timm's accomplishments don't end there, but you can be delighted by all his further artwork via a Google image search. Recently, a dream came true for Timm fans in the form of Naughty and Nice: The Good Girl Art of Bruce Timm. It's quite a hefty tome, but one you can go back and gaze at all the time.
Archie Meets KISS Collector's Edition – I don't care if it's KISS Meets Scooby Doo or The Phantom of the Park, KISS meets anyone is good by me. It could be KISS meets Balki Bartokomous or your Aunt Laura and Uncle Arthur, it won't matter to me. KISS appearing in Archie comics is pretty damn cool and this hardcover collector's edition includes the whole comic series with art by the awesome Dan Parent and story by Alex Segura as well as a ton of exclusive content. Oh and did I mention there's ZOMBIES???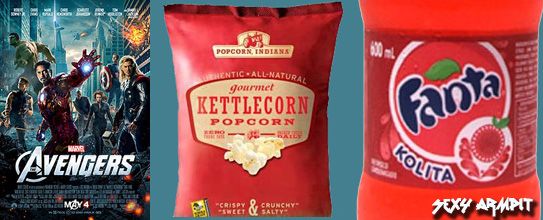 Fanta Kolita – I'm usually not one to go into detail about the lengths I go to in order to get my hands on stuff I want, ahh who am I kidding? Yes I am! A friend of The Sexy Armpit described my recent acquisition as such: "You have your soda flown in?" HAHA! I guess I'm now in that pretentious category. I try to buy American as much as possible, but when the most ultimate tasting soda is only available in Costa Rica, well, sometimes there's no choice, you just have to import that shit. It all began like this: A long time ago in Club Cool at Epcot Center, (you know the place where everyone samples various sodas from around the world?) I was whisked away to Costa Rica when the fruity bubble gum flavoring of Fanta Kolita first hit my mouth. Every time I go to Disney I can't wait to get my brief taste of Fanta Kolita, it's so good. I figured you only live once, so I bucked up the money for shipping and ordered it from Costa Rica. Some people dream of exotic vacations and living in mansions, while I occasionally like to have myself a tasty beverage.
The Avengers – Possibly the best superhero movie ever and definitely the best superhero team-up movie ever, especially since there isn't much competition in that department. Unfortunately, for us DC'ers the only live action Justice League movie you can watch is the 1997 piece of crap made for TV pilot that's buried somewhere in the depths of YouTube. As a DC fan it's embarrassing. I'm more proud of the cheesy live action 1979 Legends of the Superheroes and The Superhero Roast. One of these days DC will capitalize on The Justice League. Until that time, The Avengers sure did kick some serious ass.
Kettle Corn – When watching movies you can't forget the popcorn. For my Wrestlemania gathering this year, Marcelo, a good friend of The Armpit, brought over a bag of kettle corn. I've had kettle corn before and thought it was pretty good, but when I ripped into this bag of Popcorn, Indiana Kettle Corn I was completely blown away. This is kettle corn at it's best. What made such an impact on me was the fact that I was just expecting plain old popcorn with a bit of sweetness, but this just has that special something. Now I'm on a mission to check out some locally made kettle corn such as Kemp's Kettle Corn of New Jersey. If I get my hands on it I'm sure you'll read about it.
Don't go thinking that I'm at all proud of myself after drinking sugary soda and inhaling full bags of popcorn. I cry myself to sleep at night because I'm contributing to America's terrible eating habits. It just means that I'll have to do more Sweatin' To The Oldies.