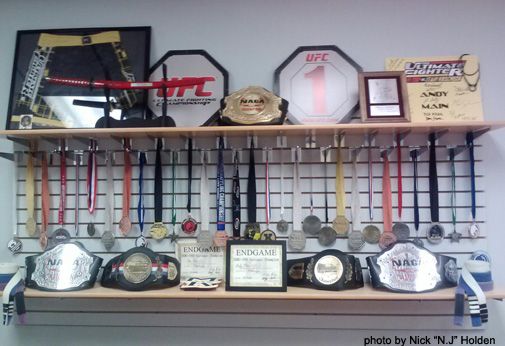 Whether you're a lover or a fighter you'll enjoy Nick "N.J" Holden's blow by blow tale of his mixed martial arts training in the Garden State by, Andy Main, a former competitor on UFC's Ultimate Fighter
With the burgeoning of the fitness craze sweeping the nation, people are partaking in all forms of fitness beyond lifting things up and putting them down in a gym populated by sweat, B.O., and the hit parade playing on Pandora. More and more people are turning to a more intense fitness regiment offered by martial arts schools. Mixed martial arts is slowly becoming one of the top sports in the country, no thanks in part to the Ultimate Fighting Championship, or UFC, and other various promotions. Mixed martial arts, or MMA, is different from other traditional sports in that it encompasses multiple disciplines, from wrestling and boxing to Brazilian Jiu Jitsu, Muay Thai, and judo. Martial arts have always intrigued me, ever since Daniel La Russo won the 1984 All Valley Karate Tournament in California, and inspired me to train in Okinawan karate under Sensei John Porta of Porta's Karate-Do and Kobudo Academy in Pompton Lakes for ten years. But with my hormones and high school kicking ass in my teen years, I abandoned karate in pursuit of cross country, video games, and college. But after much debate, I decided to reenter the world of martial arts when I enrolled at AMA Fight Club in Whippany, NJ through a chance encounter with Andy Main, who at the time was a competitor on the UFC reality series
The Ultimate Fighter
. I became friends with Andy and Mikey, his younger brother, two instructors at AMA who have branched out and started their own martial arts school,
PURE Mixed Martial Arts and Fitness
. But Andy is quick to point out that PURE is not just your typical martial arts school.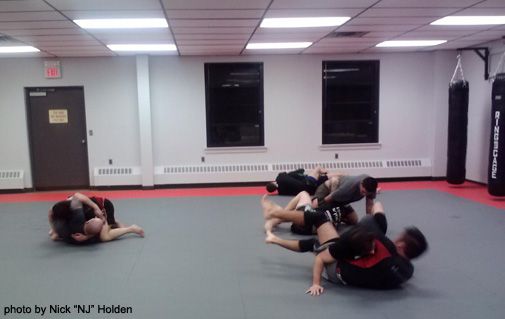 "For mixed martial arts, whether it's boxing, Brazilian Jiu Jitsu, wrestling, etc., it's important for the people coming in that they know they are learning from someone who's done it, and for us, we have a following because of the experience." Despite their youth, the Main brothers have extensive experience in the MMA field. Both Brazilian Jiu Jitsu brown belts, their lineage can be traced back to the world famous Gracie family in Brazil. Andy is a professional fighter holding a 6-1-1 (as of this writing) record. He has trained in boxing under Teddy Lucio and Hall of Famer Louis Esa as well as Muay Thai under numerous coaches such as Mike Constantino and Kemail Verhoeven. Before he was old enough to drive, Mikey has been competing and winning championship belts and gold medals in grappling tournaments such as the No-Gi Pan Americans, the Abu Dhabi Regionals, and the Renzo Gracie Invitational. He also scored the fastest submission victory in his second MMA fight in December of last year and plans to make fighting more of a priority in the years to come. Mikey's road hasn't been easy, despite having an accomplished brother in the sport, but he feels that starting at an early age gave him an advantage over other competitors.
"I started competing when I was just 15 years old. Back then teen divisions were very rare, so I was often forced into adult divisions. Being 15 years old and fighting grown up men required me to evolve at a very fast pace which is why I believe I've had as much success as I've had thus far." PURE, located in Denville, prides itself on not being a mere learning center, but instilling a lifestyle on its students. Mikey said, "My philosophy on BJJ is that it is not just a hobby, it is a way of life. BJJ changes a person's physical appearance which reflects in all other areas in a person's life. An improvement in a person's physique makes them more confident in work, school, etc. Also the ability to defend yourself brings a person more confidence in their everyday life."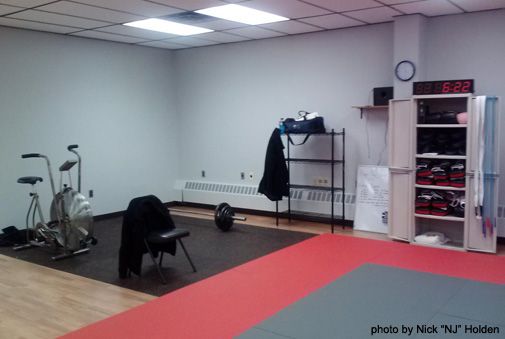 PURE's class schedule takes place six days a week, from Monday to Saturday, usually during the evening when people fight through the Garden State's various gridlocks. The class schedule offers Brazilian Jiu Jitsu (both gi and no gi, a gi being available to purchase at the school; additional gear can also be purchased there, such as hand wraps, gloves, etc.), fitness kickboxing, and striking/sparring; all classes are under the careful eye of the Main brothers, as explained by Mikey. "It is very rare to have two instructors teaching on the mat at all times. Basically our members are getting two for the price of one. Also, Andy and I are still active competitors and will be competing right alongside our students. Most instructors these days have retired from their competition career, but in my eyes, ours are just beginning. Also, we pay extremely close attention to our students' progression. We do our best to be sure everyone is at the rank they rightfully should be."
Andy's take on PURE is this: "Right now, even though there are a lot of martial arts gyms in the area, there are zero gyms in the area that have a professional fighter as the head instructor…We are such strong believers in what we do, in the martial arts." But both brothers have an equal hand in the day to day operations and are geared toward not capitalizing on a business opportunity, but to enlighten people on what Andy explains is more than just a school. "The goal is really to get people to really fall in love with the art and develop goals of their own, whether it's to compete once, whether it's to be a champion, whether it's to fight once, to become an MMA fighter, whatever they want to do, it's to be able to facilitate a career or just facilitate whatever the student needs in terms of good technique, good training, and the right mindset to reach those goals. And I think, and I believed this for a long time, that every single person is an individual. There are techniques that you learn that are universal, but everybody is going to do it a bit differently based on their body type, size, whatever. There's going to be differences in every person that need to be catered to." Both brothers have slightly different styles in terms of fighting and grappling, and both use that to better communicate with their students, a defining factor in their teaching philosophies. But one cannot deny that to train under both of these fighters is quite an experience, actually training with professional fighters who are interested in helping out their fellow man and woman. From personal experience, I have grown as both a student and as a person and have utilized as much as I have learned in my training in addition to adhering to some of their philosophies, something that I believe every person can use in his or her everyday life.

Since opening in October, PURE's class enrollment has steadily grown thanks in part to the infectious and positive attitude that both brothers display to their students. They are courteous, friendly, and are always ready to share their knowledge of techniques and strategies to whoever is willing to learn. So, with that in mind, keep an eye out for PURE Mixed Martial Arts and Fitness located at 100 Ford Rd. in Denville, New Jersey and check out their website at www.puremixedmartialarts.com. This is Nick NJ reminding everyone that life is not just a journey, but a goddamn adventure!
Follow Nick on Twitter @exiledinNJ