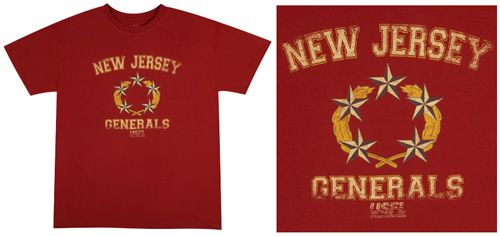 Although it only lasted a few years, the USFL obviously left quite an impression. Think about it, people aren't necessarily clamoring for NY/NJ Hitmen t-shirts from Vince McMahon's ill-fated XFL. Even though it was short lived, the USFL created enough of a stir that the NFL wound up bringing up many of the star players and even incorporated some of the rules of the game we are accustomed to today.
Wikipedia notes that the NFL was clearly influenced by the USFL. Several rules and practices of the game we watch today were taken from the USFL game play such as the two-point conversion, challenging officials rulings using instant replay, and even a league salary cap was introduced. The main difference between the two leagues was that the USFL played their games in the spring and summer.
The local team for the NY/NJ area was The New Jersey Generals. After their abysmal first season, (the team went 6-12) the team was bought by Donald Trump. Aside from their rough start, their bright spot was running back Herschel Walker. The Generals breakout star won the rushing title in '83 and '85. The following year, Walker was snatched up by the Dallas Cowboys and then bounced from the Vikings to the Eagles and then to Giants for one season before going back to the Dallas Cowboys. Another major star who played for the Generals was quarterback Doug Flutie. In 1985, he helped boost the team to 2nd place with an 11-7 record before heading to the NFL.
Last month, what was first thought of as an April Fool's Joke was actually dead serious. The USFL issued a press release stating that they would be back in business by Spring 2013. There's no news yet on which 8 cities will have teams in the league.