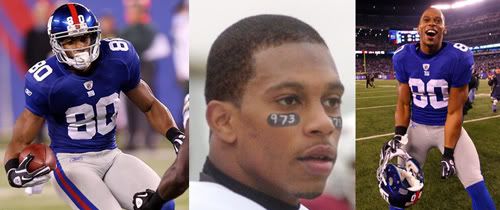 You see those numbers under his eyes? That's the Paterson NJ area code! 
CRUUUUUZ!!!!
The Sexy Armpit is celebrating The New York Giants huge win over the Green Bay Packers tonight. Next week The G-Men will be facing off against the San Francisco 49ers for the NFC Championship. Before that we'd like to pay tribute to one of the G-Men who has been so instrumental to the team this year and that is Victor Cruz.
If you think you hear boos when he makes a huge catch or scores of TD, that's actually a CRUUUUZ chant. It's just like the BRUUUUCE chants at a Springsteen concert, maybe that's because Cruz is also a Jersey boy. Cruz hails from Paterson, NJ, amid gangs, drug busts, and shootouts. That strife clearly could not distract him from becoming the NFL superstar that he has become.
There have been a slew of kickass Cruz moments this year. Cruz made a 99 yard touchdown on Christmas Eve 2011 against the Jets and he also now holds a Giants record for most receiving yards in a single season, but perhaps his biggest accomplishment was becoming a dad just last week. He's already turned down the chance to be on Dancing With The Stars because he's onto bigger and better things such as possibly taking a vacation to Disney World! Be sure to check him out next Sunday when he salsa dances all the way to the SUPER BOWL after the Giants beat the 49ers!!!
[youtube http://www.youtube.com/watch?v=Gwj90GMIeu8?rel=0]