If the temperature is pushing 90 degrees with a threat of severe thunderstorms would you want to stand outside for 6 hours? The last thing I wanted to do on an oppressively hot and humid day was to go to an all day outdoor music festival. Even with dark clouds and flashes of lightning looming in the sky, the Jackson, NJ stop of The Bamboozle Roadshow pushed ahead. All the bands I was able to catch remained positive and enthusiastic regardless of the fact the stages looked like their grandmothers houses in the '80s, with speakers and equipment covered in plastic. Fading in and out in the atmosphere were faint screams of the legions of park and concert goers, mostly young teenagers, whipping around on roller coasters and other thrill rides. There was also the sweet scent of churros creeping up my nostrils as Six Flags Great Adventure set the perfect scene for a sweltering day of music and rides.
The bands featured on The Bamboozle Roadshow were divided onto 2 stages. The first 8 bands played on a stage by The Dark Knight Coaster while the headlining acts got an actual arena (The Northern Star Arena), which felt like it was 17 miles away. Considering the park takes up 2200 acres of land, I would have loved to have traveled back and forth in a climate controlled motorized cart. Did they want me to pass out from heat exhaustion while traversing the vast theme park? Luckily Coca-Cola was a sponsor of the event and they had a huge Igloo shaped tent set up where people could go in, cool off in the frosty air, drink some free Coca-Cola, and listen to some music before heading back out into the heat.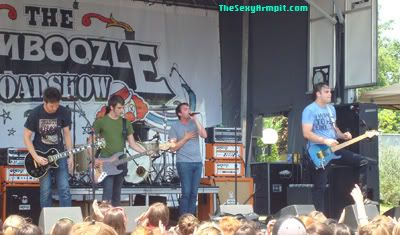 MERCY MERCEDES
By the time I parked and walked 2 miles to the entrance, the first band I caught was Mercy Mercedes. They were playing a song with a summer vibe that rhymed FM station with good vibration so I knew what I was in for. Songs like "Shiver Me Timbers" incorporated great vocal melodies that had the whole crowd singing and clapping along. After their set I saw a security guard sneaking the band onto Nitro to beat the lines. I then referenced the list in my pocket notebook. Number #972 of why it would kick ass to be in a band: "because you can get on any ride whenever the hell you want regardless of your popularity."
CADY GROVES
The minute Cady Groves stepped on stage, a good portion of the crowd began to flock to rides, and for food. Grove's loyal tween fanbase remained attentive. Like an Avril without the annoying angst, Groves' set only ran about 25 minutes. It's a good thing too because many of her tracks weren't very exciting and even had a bit of twang, which sounded out of place crammed in between Mercy Mercedes and Great Big Planes. On tracks like "The Life of a Pirate," Groves proved she's just a mellow non-threatening role model for your young daughter, which isn't a bad thing when you consider that Miley Cyrus is already parading around pantsless and making out with anyone's mouth that's available. Groves definitely needs to fine tune her stage presence as one of the only unintentionally amusing things she said in her set was "You guys are awesome at clapping."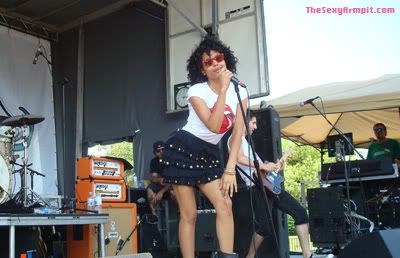 VITA CHAMBERS
Vita Chambers was more my speed. With her effervescent voice and upbeat vibe it seems Vita is a disciple of Gwen Stefani. Her whole band was lively and eager to rock the crowd. During their set, songs such as "The Get Go" and "Get Out My Head" easily stuck in my head. I won't lie, I downloaded their EP on iTunes when I got home. There's actually a huge difference between the live version and studio recordings. After seeing their balls out performance, it's obvious that the band and Chambers herself are more in their element when in front of an audience with their music blasting loud. Their EP doesn't do them justice because it sounds like the producers were trying to angle her as the next Pink rather than the next Gwen Stefani or Hayley Williams. In a curious tone Vita asked the crowd "Can New Jersey Dance?" during their cover of Lady Gaga's "Telephone." The exuberant band ended their set on a high note with their best track, "Like Boom." Watch out parents – she'll be opening up for Justin Bieber at The Prudential Center in Newark on 8/28/10.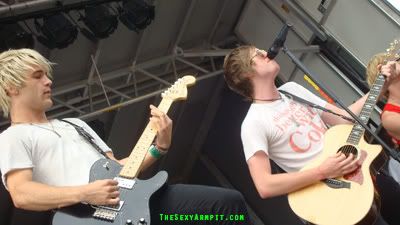 STEREO SKYLINE
For a group out of Long Island, NY, Stereo Skyline looks more like beach bums from Southern California. They are like a Nelson or Trixter for a new generation of kids. Their set was filled with pop rock saturated with Hanson-esque melodies, all of which will be featured on their first full length album that will be released this month. Although many of their tracks come off as something you'd hear on Kidz Bop, "Downtown" on the other hand stood out. Lead singer Kevin Bard yelled "I love New Jersey" and the girls went nuts. Bard was wearing a vintage Coke shirt. Their first album isn't even out yet and he already knows all about product placement! Record Company darlings.
FOREVER THE SICKEST KIDS
They hail from Texas and they've been around for a few years, but this was the first I was hearing of Forever The Sickest Kids. I didn't expect much for a band with such a long and intricate name. Haven't they heard of the KISS principle? It was apparent why they were one of the headlining acts once I observed their knack for charging up the crowd. According to lead singer Jonathan Cook's mic stand, the abbreviation of the bands name is FTSK and they are sort of like a more power pop oriented Blink 182. I enjoyed their fast paced, hook filled, microphone launching extravaganza. The track that proved most engaging to the audience was "Whoa Oh! (Me vs. Everyone)" which had the audience fist pumping like pros when it dawned on Cook, "I didn't realize when we were fist pumping that we were in New Jersey!"
Then a dance beat introduced, "Hey Brittany," but it luckily turned into a full on rock song complete with keyboards and a sweet chorus of "So where do we go?" Cook also gauged the crowd as to whether they wanted to see Justin Bieber or N Sync, and the resounding ear drum shattering response for Bieber made it obvious that artists don't stick around for long in young people's eyes. I'd hate to know what they think about New Kids on the Block, and shit, they most definitely don't even know who Debbie Gibson is. The crowd went completely apeshit when Cook asked if they were ready for LMFAO. Those guys are responsible for the Jersey Shore theme song. Even though they were the headlining act, I didn't stick around for their set. FTSK is finishing up a new album "The Weekend: Saturday" which is slated for a September release.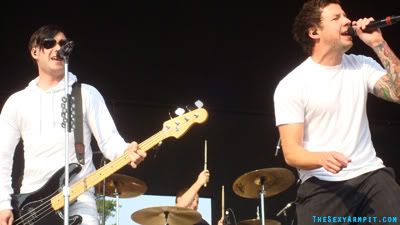 SIMPLE PLAN
For a band that I projected would be a flash in the pan, Simple Plan has enjoyed a fairly long successful career compared to other bands that emerged during the same time they did. They give it their all on stage and many of their songs seem to have aged pretty well. I was never a huge fan of theirs but over the years songs like "Addicted" and "I'd Do Anything" have have grown on me. Frontman Pierre Bouvier announced their new album will be released soon and they even played one of their new tracks for us called "You Suck at Love," which is an upbeat pop-punk track in line with their other songs. "I Love New Jersey!" yelled Pierre. This whole concert was an unprecedented Jersey love fest. These guys are state misogynists, they must tell every state and city that they love them. They are from Canada so I don't really know how much they truly love any of us down here in Jersey!
GOOD CHARLOTTE
Good Charlotte was the last band that I stayed for since I felt like I was seconds away from passing out. Since they first hit the scene Good Charlotte's music has matured and became less about pop punk and more about exploring other styles and reinventing themselves. None of that mattered since the crowd was hyper familiar with their songs and sang along with every track. Good Charlotte played all their big hits from "Girls and Boys" to "The Young and The Hopeless" and even throwing in "Like It's Her Birthday," a new track off their upcoming album, Cardiology, which the band says is a return to their pop-punk roots. And I thought I was hot? Joel and Benji Madden were in their typical attire: black jeans, shirts, vests, and hats. They might as well have been playing at a ski resort.
By the time I left the rain held out and the threat of a storm diminished, but the heat was still present. Other bands that I did not stay for were LMFAO, Third Eye Blind, and Boys Like Girls among others. The overstimulation of a concert festival like The Bamboozle Roadshow was perfect for the A.D.D generation. It was not designed for older folks who complain about having to sit through ONE opening band. If you are like that you might have hurled yourself off of El Toro just to put yourself out of your misery.
The Bamboozle at the Meadowlands usually attracts a wider crowed because of their big name bands such as No Doubt, Weezer, and Paramore, but the Roadshow was more accessible and geared toward a younger crowd. I imagine many of the kids who attended the daytine portion of the conert had to beg their parents to take the day off of school because some schools were still in session. Hopefully next time Bamboozle Roadshow pulls into Six Flags it will be on a weekend. Regardless of taking place on a Thursday, tons of people invaded the park and witnessed a slew of amped up bands performing quick, energetic sets. Then those same people blasted off on roller coasters, gulped down gigantic Great Adventure souvenir cups full of sugary soda, and goofed off, exactly what a summer day is all about.
*All photos taken by The Sexy Armpit.com