An excellent horror movie blogger, Final Girl, has inspired many of us bloggers to write a positive piece about films rather than being negative and ripping a film apart. So as part of the Hey, Internet, Stop Being Such Cynical Effing Douchbags Blog-A-Thon I've decided to concentrate on certain movie scenes that I always wish I was in. Some arouse feelings of nostalgia, fantasy, or they just look so damn cool. I've always wanted to actually experience these scenes first hand rather than just passively watch them.
In 20,000 Leagues Under the Sea, Kirk Douglas thinks the Nautilus is a sea creature and is about to throw a harpoon at it. The Nautilus was mysterious and it evoked intensity and suspense. The sub, even though it was an extension of Captain Nemo, seemed to have a life of it's own. Later on we get to see the lush decor on board and I never thought the inside of a submarine could be this cool.

In the 1966 Batman movie, I was seduced by the idea of having poles to slide down into the bat cave. To have an "instant costume change lever" that was actually labelled with its title would be even more awesome. Shit I just used my basement as a low rent bat cave.
Obviously,
Labyrinth
has a ton of classic scenes and shots. This one really captured the first moment where we see a full view of the Labyrinth and what's in store for Sarah. When I saw this movie for the first time I don't think I was old enough to even define the word labyrinth so seeing that Sarah was about to head into a whole adventurous world of mazes and creatures made me want to jump into the screen and join her in the search for her brother
Toby
.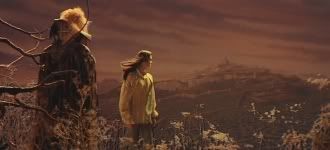 What I would'
ve
gave to ride my big wheel around the deserted Overlook hotel while horrifying spectacles are haunting every corner just like Danny Torrance in
The Shining
.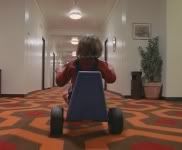 I take a lot of flak for always referencing
Sleeping Beauty
as one of my favorite films. The exciting finale featuring
Maleficent
's fire breathing dragon (GREEN fire by the way) vividly sticks out in my mind.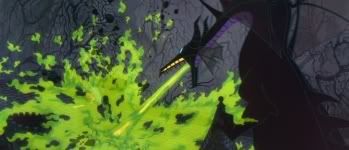 The documentary within the movie
Boogie Nights
is classic. Dirk
Diggler
's speech touches on subjects like Napoleon, jealousy, and how he's "gonna keep
rockin'
on." It's some of the most eloquent stuff I'
ve
ever heard! DIRK: "Like my shoes? They're like this patchwork reptilian pattern design." I can't leave out the recording session where they record "Feel My Heat" and "You'
ve
Got the Touch" which frequently come up in my
iPod
shuffles.
This scene in
Love Actually
perfectly captures how every guy feels about a girl at one time or another. You know when there's a girl you like and she's with someone else and you desperately want to show her that you could make her happier than the guy she's with? This guy goes into Bob Dylan mode and knocks on aptly named Juliet's door. He shows her notes he wrote on
poster board
expressing romantic sentiments while her boyfriend is sitting on the couch inside. Even though it's apparent he's got zero chance, he gave it his best shot. He settled for letting her know truly how he feels. She gave him a consolation kiss. It
doesn
't hurt that
Keira
Knightley looks hot as hell either.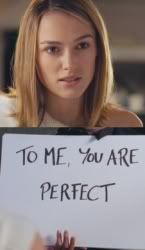 Return to Oz
depicts a very different, more realistic Oz than the glistening green skyline we're used to seeing in the 1939 version. As a kid it was pretty scary after realizing that the whole sparkling city was turned to stone and the wheelers vandalized it. If you're an adult and you still haven't experienced Return to Oz, then GET ON IT!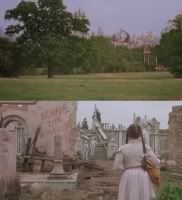 The finale of
Pirates of the Caribbean: Curse of the Black Pearl
, shows Jack Sparrow once again taking the helm as Captain of the Black Pearl: "drink up me hardy's Yo Ho!" Then Klaus Badelt's "He's a Pirate" kicks in to pump you up.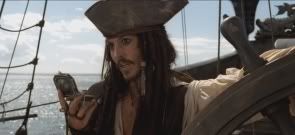 After the kick ass water slide scene,
The Goonies
kids discover the cou de gras…The Inferno, (One Eyed Willie's Pirate Ship)…with TONS of rich stuff aboard.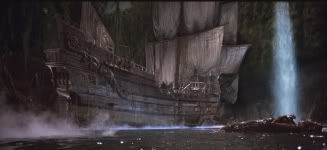 I must have a million more, but for now…what are some of your favorite movie scenes?