Welcome to Part 1 of The Sexy Armpit's Guide to the BEST KISS songs. While "best Kiss songs" is an oxymoron to some naysayers out there, it IS the premise of this article because Kiss is one of the most iconic and influential rock bands in history. Out of the "long and distinguished" KISS catalog of music, how were these songs chosen? Well, I've painstakingly hand picked tracks from each album that I think have withstood the test of time. Is there any personal bias involved? Yes of course. You would think Gene Simmons paid me off to write this entry, but actually, I had to pay him. I'm wiring him the royalties right now. When I finish handing over my bank account to The Demon, I will present you with the BEST KISS tracks in the most fair manner possible.
BUT JAY, there's not enough Ace and Peter, what's the deal yo? OK, let me get this out of the way right now: We all know Ace had the best solo album, so I won't list any tracks from the solo albums here. And I enjoy Peter's work especially Getaway, Hooligan, and various others. The fact that I'm not gushing about their "underrated" contributions to the KISS albums is just a personal preference. Believe it or not, there's too many Gene/Paul songs that generally went unnoticed. Trust me…when you're done amassing your new Kiss collection you'll be pretending you're Paul Stanley in front of your mirror pouting your lips and fluffing your hair. Step aside Starchild, it's time for the countdown…
KISS' self titled debut
from 1974 captures the essence of the band the way they were originally intended. It's sort of like the first installment of
Nightmare on Elm Street
, although it didn't make nearly as much of an impact. 34 years later I can proudly say that you should buy, download, or borrow this album because it will seduce you into the world of KISS. When people hear the band for the first time they are often surprised at some of the melodies, sing along choruses, and hooks. The first album features a lot of that, but also some plain old grungy New York Rock and Roll. Some of the greatest KISS songs of all time are on this album.
BEST TRACKS:
Deuce, Strutter, Black Diamond
The same year KISS followed up their hard rocking debut with Hotter than Hell. If there was such a thing as "alternative" music in 1974 this album would be considered just that. The music on this album is dark and grungy while still keeping that rock star flair. If you know Gene Simmons from his Family Jewels reality show, you would barely recognize him from listening to him sing on Parasite. This guy sounds so guttural it's like he's a crooning werewolf. It's awesome. Sure, maybe he doesn't have the greatest "singing" voice, but he's got a great ROCK voice. He makes you feel the music. Trust me, there are much worse singers out there. The truth is, his voice matches their type of music. It went well with their hard driving, sexual tunes. Paul's voice went better with the fluffier, pop geared tracks. BEST TRACKS: Hotter Than Hell, Parasite, Got To Choose
1975's
Dressed to Kill
features one of the most offbeat Kiss album covers. After seeing the band flaunt their out of this world costumes on the cover of
Hotter Than Hell
, here the band is dressed up in suits and standing on a street corner. Dressed to Kill presents Kiss in a much bigger light. It shows a bit of a departure as they seem to go for a trumped up rock star sound. Maybe the album
doesn
't have the most thought provoking lyrics, but hey…it's KISS: "She's a dancer, a romancer, I'm a Capricorn and she's a Cancer" need I say more? Personally I love the euphemistic language on "Room Service." Paul Stanley even helped Anthrax cover "Love Her All I Can." You also might try to dig up Sebastian Bach's cover of "Rock Bottom."
BEST TRACKS:
Ladies in Waiting, Rock and Roll All

Nite

(

c'mon

, it's a classic!)
Even though KISS ALIVE! was the album that really put them over the top popularity wise, I'm going to skip it since there's no new material on the album. Although it's a must have if you're a fan of live music.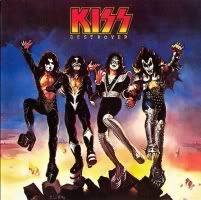 Destroyer
, (1976) showed that KISS could truly create fine pop oriented rock songs. There's plenty of upbeat, hard driving music on this album which was produced by the late Bob
Ezrin
. ***(BOB EZRIN is not dead, he let me know that in the comments. Sorry Bob! I confused you with Bruce Fairbairn) With Destroyer, Kiss was solidified as larger than life superheroes. This album also introduced a couple of KISS concert mainstays.
BEST TRACKS:
Detroit Rock City, King of the Night Time World, God of Thunder, Beth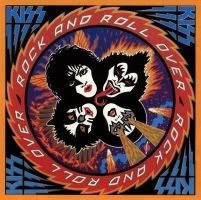 Also in 1976,
Rock and Roll Over
, contains the most genius lyric in any song ever created at the start of "Take Me." We hear Paul Stanley commanding a girl (hopefully) "Put your hand in my pocket, grab onto my rocket." If I could write stuff like that I wouldn't be on blogger blogging…I'd be a
gazillionaire
rock star.
BEST TRACKS:
Calling Dr. Love, and Mr. Speed (which could easily be covered by Big and Rich or Toby Keith nowadays.)
Come back to The Sexy Armpit tomorrow for the next installment of our Guide to The Best Kiss Songs!