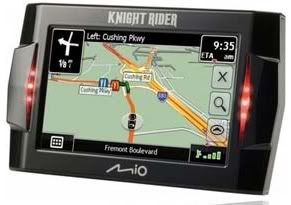 I never said I wasn't a big dork. After all, I'd have to be one to purchase a nearly $300 dollar Knight Rider Portable GPS for my car in order to pretend that I'm driving around like Michael Knight in KITT. I was excited to see the FedEx girl on Saturday afternoon. Not for the obvious reasons, but because she had my Knight Rider GPS by Mio.
I can't find many flaws with the Knight Rider GPS. I have it set to a personalized greeting "Hello Jay, where would you like to go today?" delivered in the original KITT voice of William Daniels! So far the directions have been accurate although I haven't had an opportunity to use it while driving somewhere that I've never been to before. That's the real test that will determine if it's worth the money. A feature that comes in handy aside from directions is that it highlights any restaurants, gas stations, and other points of interest. I'm a GPS novice so I'm still fairly enthusiastic about the product, but I know before long I'll probably want to throw it out the window while I'm doing 70 mph down the smelly New Jersey Turnpike.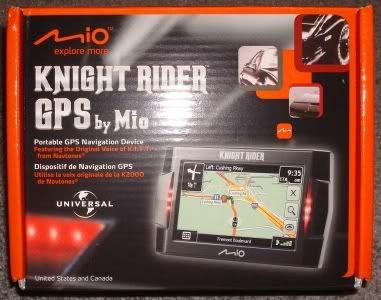 The GPS module is small, sleek, and lightweight. The red KITT flashing lights pulse when William Daniels is directing you on where to turn. You won't need to buy any accessories either! It comes fully equipped with a touchscreen, mounting system, rechargeable battery, lighter adapter, and USB cable.
The only minor annoyance is the many warning screens you receive, but I'd imagine that's the same on other GPS systems. The GPS will tell you constantly that you may encounter toll roads on your route even if you know for a fact that you won't drive on any! It'll also warn you not to interface with the GPS while driving. BOO! With all the stuff I see people doing while driving such as reading books, doing their makeup, and trying to dial their cell phones, touching a screen in front of you doesn't seem like such a crime. Isn't this device helping me fight crime? By having it tell me not to use it while driving might interfere with me nabbing a criminal mastermind.
I do recommend the Knight Rider GPS especially if you were a fan of the original Knight Rider TV show. This is a pretty amazing and functional collectible. Check out the video and review courtesy of Knight Rider Online:
http://knightrideronline.com/news/2008/06/mio_knight_rider_gps_has_voice.php
Then check out the official Mio site for the GPS here:
http://www.knightridergps.com/
The premiere of the new Knight Rider series airs tonight on NBC but it's also featured online if you can't wait!
http://www.nbc.com/Knight_Rider/