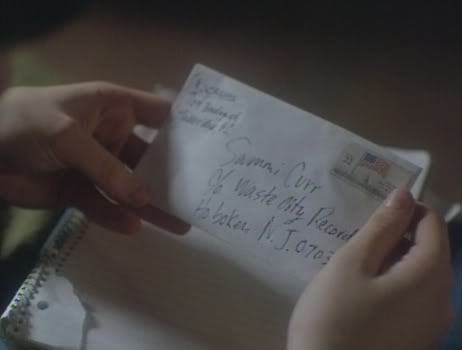 Back in the days when "fan mail" actually existed, more specifically, when people actually wrote letters, one Eddie Weinbauer incessantly wrote letters to his idol and rock saviour Sammi Curr. If you've never heard of Sammi Curr you need to watch Trick or Treat, an '80s classic of the horror rock genre. Sammi is an icon of metal and don't let people tell you he's a fictional character because Sammi lives within all of your household appliances, especially your stereos. But for some reason, the best way to reach him is through his record label.
If you're interested in sending fan mail to Sammi, first you'll need to try and come up with something thought provoking and interesting enough to say to him in order to stand out from the millions of other notes, letters, and boxes of used lingerie that Sammi receives on a daily basis. Let your own personality shine through! When you're done licking the envelope seductively, spray a spritz of your favorite cologne on the flap, Sammi may enjoy that. Then say a prayer that he actually gets it. Now you'll have to fill out the front of the envelope.
Oh yes, you wanted the address of Sammi Curr at his record label:
Sammi Curr
C/O Waste City Records
Hoboken, N.J 07030
It's no wonder that a record label named "Waste City" makes its residence in New Jersey of all places.
Next, you may want to skip and whistle or walk nervously fast to your nearest mailbox. For Eddie, he can expect the letter to take at least a few days to reach it's destination. All signs point to Eddie living in a suburb of North Carolina, considering the credits stated that the movie was filmed there and the license plate in the movie told me so. I guess the really cool stuff happens everywhere other than where I live because I've never had a heavy metal icon come back from the dead, burned face and all, and torment me with subliminal messages before. Perhaps if I send him a letter asking him to come to MY town, that may do the trick. Or treat?
Notice the price of the stamp on the letter is $0.22 cents in 1986! Presently the price of a U.S postage stamp is $0.42 cents!