Welcome to a new recurring column here at The Sexy Armpit called The Rahway Redemption. The legendary Rahway Prison, a.k.a East Jersey State Prison has quite a menacing look about it. Whenever I drive by the monstrous institution, I definitely get a little creeped out. Thanks in part to it's unsympathetic and raw reputation, this slammer is a star in it's own right. Well, at least a star enough to get a column dedicated to it here at The Armpit! I'm attempting to break out of the prison but I need your help! In this column I need you to read on as I present Rahway Prison's most notable appearances in pop culture.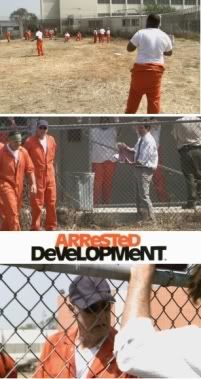 In Season One, Episode 6 (12/7/03) of one of the funniest TV shows of all time,
Arrested Development
, Michael Bluth (Jason Bateman) attempts to get his father George Senior (Jeff Tambor) out of prison. First, Michael tried to get to the bottom of some of his father's shady transactions. Michael decided to get some answers while visiting him at Orange County Prison. George Sr. was too busy to talk about anything important since he was practicing softball with other inmates.
I hate to be buzzkill, but I'm trying to get you out of here.
Yeah well, I'm trying to get us out of last place Michael! 
We're playing
Rahway
next week…word has it that they're getting Jose Canseco!
I'm starting to wonder why I even bother coming.
You won't even talk to me?!?!
I'M CATCHER OR I'M NOTHING!