I only walked a few blocks from the parking garage to the Javitz Center, but I froze my baguettes off! Frozen innards and frostbitten digits were a small price to pay for the opportunity to schmooze with like minded individuals. There's something about geek society; whether it's talking comics, trading links to websites, or discussing the pros and cons of the new G.I Joe film, it makes you feel like you belong.
After the lingering Comic Con buzz, going back to work and hangin' and bangin' at the gym was a real bitch. I'll be honest, I'm running on fumes. So far today I've downed an energy drink AND a medium iced coffee – black, but somehow, it's just not enough. JUST NOW, I took the precaution of gulping down this Health energy potion that the people from Mana Potions booth gave me to test out.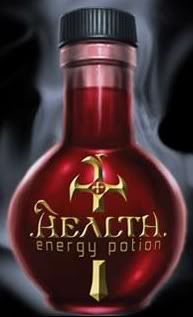 Let's hope I'm not up for the next 5 hours since I'll need at least a few hours of sleep so I can be relatively coherent for work tomorrow. The cool little bottle is definitely eye catching. When I stopped by their booth, the blue and red varieties nearly glowing through the clear bottles made me feel like I was in a video game and just found a "power up" potion. (Their motto happens to be Replenish or Perish!) The scantily clad Mana girls did a decent job enticing me as well. The Health potion has tons of vitamins, folic acid, and even biotin which has numerous health benefits. Even though it tastes only a step above children's liquid cough medicine, I was in it for the "energy" portion of the potion. The formula which includes ginseng, caffeine, taurine, amino acids, elderberry juice, and other ingredients gives the formula it's "get up and go." I can ignore its medicinal taste and syrupy consistency as long as it works. It's been a few minutes and I'm not feeling tired or jittery, but pretty good. I'll let you know if I crash by the end of the article.
I met Christof Laputka at the Leviathan Chronicles booth. Headphones were set up in the booth to listen to installments of his science fiction audio saga. Christof's quite the renaissance man. He's gone from Wall Street to traveling the world, and he's not ashamed to hide the fact that he's a just a geek at heart. As a kid he grew up obsessing over Science-Fiction shows like Battlestar Galactica. Christoff described his aural creation to me as a throwback to old time radio shows, which thanks to my dad, I grew up listening to. I'm sure there's a ton of people out there who have no idea what it was like to tune the old Philco radio and listen to Inner Sanctum, The Lone Ranger, The Green Hornet, etc. Through cassette tapes he ordered from a mail order old time radio catalog, my Dad introduced a young impressionable Armpit into the "theater of the mind," and I appreciate that he did.
I popped The Leviathan Chronicles CD into my car stereo on my way to work and really got into it. I commend Christof for taking the chance to release this series; what better time than now? Everyone has an iPod or an mp3 player and FREE, high quality content is hard to come by. It seems like a no brainer and I hope the Leviathan chronicles gains a large following because that would open the door for Christof to produce other audio adventures. There's plenty of websites doing original fictional programs for download but I'm going to wager that they don't have the production quality of the Leviathan Chronicles. A description in their press release sums up the scale of the production: "The cast includes over 40 voice actors, cutting edge sound effects, and an original musical score." The soundtrack really does rock! Each show is free and ranges from 30-40 minutes. You can find it
FREE at their website
or on iTunes!
While Making my way around Comic Con it was great to see so much New Jersey representation! Like I mentioned about
others in part 1
, Rob Feldman of
Earworm Media
(based out of Jersey!) is another guy, who turned out to be a phenomenal dude! Rob didn't know me from a vampire hiding behind his booth, but once I discovered that we had New Jersey in common we had a few laughs and then he introduced me to his creation,
Dr. Shroud
.
Robert even posed for a couple of photos. Here's a priceless moment where Rob struck what he coined "The Sexy Armpit Pose," that goes to show you that Rob was brave, and hands down the coolest guy in the entire Javitz Center that day!
Shame on me for not knowing about Dr.Shroud already! It's nearly impossible to keep up on EVERYTHING! When you have entire seasons of Dallas stored in YOUR brain, miss some things your radar will! Dr. Shroud is a radtastic animated series available on the Internet and mobile phones. Shroud is a plastic surgeon with a secret past as a reformed vampire. Shroud's daughter gets kidnapped by vampires that lurk in the city of Necropolis. Shroud embraces his former vampiric ways to defeat the city's evil creatures in his quest to track down his daughter. The animated series features stylish animation, a creepy atmosphere, and an awesome soundtrack! Rob gave me a cool set of Dr. Shroud fangs so I can act out scenes at home. Thanks Rob! You can watch full episodes at Joost:
Skullboy
threw me for a loop when I saw how creepy he looked with his Misfits style face paint. I looked down and saw the all too familiar outline of NJ all over his table! There were t-shirts, stickers, and some killer skull art. All of a sudden, Skullboy reached his hand up and gave me one of his skullboy styled New Jersey stickers! That kicked ass!
Skullboy is truly adding to the great art culture in New Jersey and spreading the infectious Jerseyana. In fact, he's not only a dedicated artist, but he's also an event organizer. Skullboy has been putting on shows that mix art and rock music all over the state. Here's some of Skullboy's creations:
To purchase his artwork, T-shirts, or stickers go to
skullboy.net
Image comics: Jersey Gods!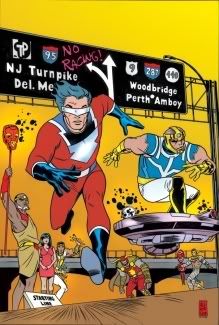 I literally had to stand and wait for a middle aged female newspaper reporter from the
Star Ledger
to finish her "interview" with Glen Brunswick, writer of
Jersey Gods
. It was clear that she had to have been given this assignment to tackle, because either her interview skills sucked ass or she was completely unfamiliar with anything comic book related aside from reading the Jersey Gods comic. I bet the Jersey Gods and Ziggy are the only comics she ever read in her life.
I'm standing there like Biff Tannen with my arms folded all cocky thinking "Well lookie what we have here…" some self important newspaper reporter trying to horn in on Comic Con. When I saw Jersey Gods for the first time I thought to myself "a match made in heaven!" It was as good as Macho Man and Elizabeth…a comic book filled with superheroes published by Image comics and it's based in NEW JERSEY? It seems like it was created specifically for me to write about on this site.
If I could only get a word in edgewise. Every time Glen was about to cut over to me, she kept going and going with more irrelevant questions. She's a wonderful, insightful, writer and I enjoy her articles, but I can't say that I use the same interview style as she does. The whole situation made me feel uncomfortable. It felt like my 7th grade math teacher was interviewing a guy who WRITES AN
IMAGE
COMIC BOOK! It's not supposed to happen! My mother interviewing Nikki Sixx would easily be 10,000 times more entertaining.
I've been reading comic books for over 25 years now, and for some reason I just felt protective of my passion. This lady had to pause and write notes on a pad every time Glen gave her a response! C'mon lady! Step into reality, we're approaching the year 2010! We have digital voice recorders that can detect the sound of a pin dropping at a
Gwar
concert. Finally she finished momentarily with Glen and he directed his attention to ME! I explained to him what I do here at the Armpit and he was very enthusiastic about it. I mentioned that I'd like to review a copy for the site, so you can expect a full review here coming soon! Saturday morning rolled around, and sure as shit, as I was walked out of the gym I looked over on the Star Ledger rack, and staring back at me was a pic of Glen Brunswick and Dan McDaid at Comic Con with Amy Nutt's interview. It made the front page!
Aside from the invasion of all of these "official" print/TV people, the Comic Con was just a great time. The legit press folks should stay out of comic con though. If you are a virgin do you go to watch the Rocky Horror Picture show at your local theater? I would advise not to. The majority of important news events only invite certified media and "prominent" bloggers, so why should we let them into our world? Bloggers, podcasters, vloggers, and all the other
mavericky
online criers are welcome at Comic Con. We gotta keep some shit to ourselves! I hate the mainstreaming of geek!
BTW: I didn't crash. I feel energized but not shaky. Perhaps that Health potion is the real deal?