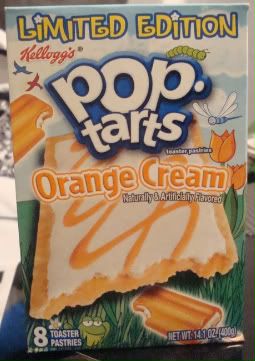 Reviewing every odd flavor of Pop Tarts takes its toll. When my girlfriend picked up this box of Orange Cream Pop Tarts for me I was stricken with dejavu. Not a fatal condition by any means, but damn, after having too many obscure Pop Tart flavors infiltrate my body, they all seem to flow together. I'm now referring to my blood as "filling" and telling people that I'm not in the mood for their mouth because I haven't been "toasted" yet. Fortunately, I've had the foresight not to let the "frosted" part come into play, especially on my hair.
If you're a long time reader of the Armpit, you know that Orange Cream is a flavor that excites me. My hopes remain high for Orange Cream, even though many times they are shat on miserably. Sometimes you get a lemon, right? Not this time. These limited run Pop-Tarts basically scored an uppercut and said "AIN'T NO F'N LEMONS HERE!" They are a triumph for the orange cream genre. If there were an Orange Cream Emmy Awards show, these suckers would clean up big time.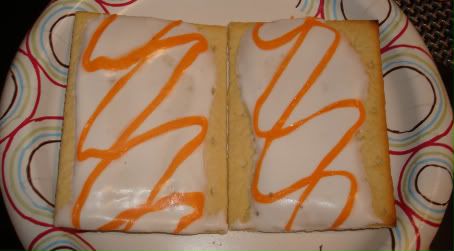 If you're a fan of the flavor you'll enjoy the nice, mellow balance of orange and cream. Too often companies release some zany in your face limited edition flavor, whether it's a soda or Fruit by the Foot, and it tastes terrible. Usually to blame for a bad tasting orange cream flavored snack or drink is its lack of flavor balance. If you're bowled over by the offensive amount of orange in your first bite or sip, then you know it's not going to be an orange cream dream. Subtlety is key.

The packaging is a bit curious. Would it make me happier to see a typical graphic depicting oranges and vanilla ice cream in a '50s motif? Not really, since that's been done to death already. I suppose I can live with the bizarre dragonflys, frogs, and birds, even though they have absolutely nothing to do with Orange Cream flavoring at all. Maybe Kellog's is trying to say that these suckers are so delicious that they'll make you feel like you're floating around above some grassy meadow that has a garden that grow creamsicles? The packages intention was most likely designed so the super special flavor will greet you during those spring and summer mornings when you just can't look at another bowl of Fiber One.
Orange Cream Pop Tarts obliterate the trendy/wacky flavors like Dulce Du Leche and Guava Mango (wha?). Regardless of their status as greatest limited edition Pop Tart flavor ever, to me, they are still just a "once in a while" treat. Even though they're nearly perfect, they won't be ones I'll crave constantly which is probably why they were banished to the limited edition abyss. Frosted Cherry and Frosted Brown Sugar Cinnamon remain the pillars of the Pop-Tart fleet.