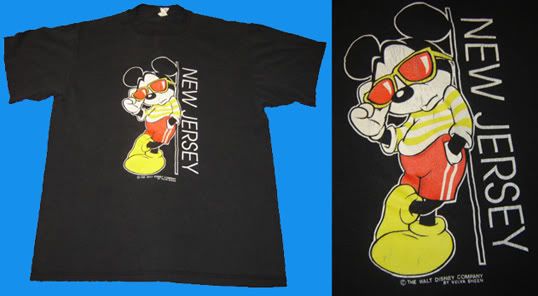 Unfortunately, this isn't another
practical joke
, Mickey won't actually be chillin' in Jersey anytime soon. Even if he was, he'd need the proper attire. Here he's looking more like he was auditioning to be an extra in a McDonaldland commercial. Mick would have looked more appropriate rocking a pair of stone washed jeans and a wife beater, but he got the sunglasses right though! If the folks at Disney animation weren't so uptight about their squeaky clean image, maybe we'd get an animated short called
Mickey's Sopranos
attached to the beginning of The Princess and the Frog? If I was Mickey, I think I'd pick Jiminy Cricket as my consigliere.
If we had it our way here in Jersey, we would've had a nice gigantic Disney Theme Park in place of
Xanadu
, the debacle that's presently taking up space in the Meadowlands complex. Until then, we can fantasize about how cool it would be to see racks at the gift shops filled with these t-shirts at Disney World: New Jersey.
Recently, eBay Seller
VintageCandee1
featured this '80s Disney T-Shirt with Mickey on the front leaning against the words "New Jersey." At the bottom of the graphic, the fine print reads "The Walt Disney Company by Velva Sheen."