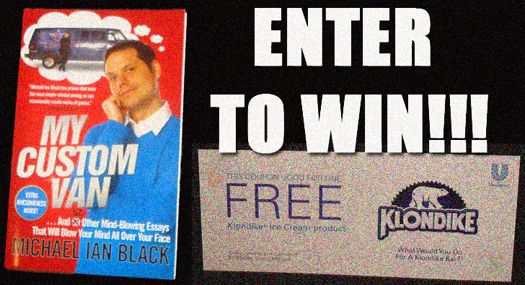 In this post we hope you'll learn a few life lessons like how to double knot your shoelaces, how to unscrew a cap from a 2-liter soda bottle, and how to enter to win a Klondike Bar, and as if that wasn't sweet enough, we'll throw in a copy of Michael Ian Black's book, My Custom Van And 52 other Mind-Blowing Essays That Will Blow Your Mind All Over Your Face!!! Michael Ian Black grew up in New Jersey and isn't afraid to admit it:
page 223 of My Custom Van as Black discusses Doritos
Here at The Sexy Armpit, the esteemed humorist Michael Ian Black is held in very high regard, and so are Klondike Bars. Smooshing the two of them together might be heavenly, yet kind of weird when you think about it. Black would probably get really cold and fairly sticky, not to mention that he probably won't taste anywhere near as good as the thicker, chocolaty Klondike Bar does, (sorry 'bout that Michael). Plus, we'd have to shrink Black down so he wouldn't be inordinately larger than the ice cream filled Klondike Bar.
The good people at Klondike have not only provided us with a coupon for a FREE Klondike Bar product but also a fine collection of entertaining "man on the street" sketches starring Michael Ian Black! What would you do-oo-oo for a Klondike Bar? It turns out, you don't have to do all that much! Who needs an overly complicated giveaway anyhow? All you have to do to enter is view the set of 5 videos and tell us which one you like the best. The winner will be chosen at random and announced right here at The Sexy Armpit. Deadline to enter is 9/1/09.
To watch the videos go here: www.klondikebar.com/mancave and click on the TV set, then e-mail sexyarmpit@comcast.net which one you like the best.
While serving as Klondike's man on the street, Black resides in "the library of treats" where he concocts cold, delicious Klontinis while being waited on by cute snack girls. It's a life we can all envy. In case you haven't heard about it, you can watch Michael Ian Black's latest comedic exploits in Michael and Michael Have Issues, Wednesdays on Comedy Central.
As for Klondike Bars, they're still cold chillin' in the freezer section of the supermarket, but I wasn't aware of the various flavors they're now offering. My upcoming mission is to try the Oreo Cookies and Cream, Dark Chocolate, and Reese's varieties of the Klondike Bar. If you're trying to watch your girlish figure, then I suggest you pick up a pack of the no sugar added or 100 calorie versions. You can follow @The_Klondikebar on Twitter.