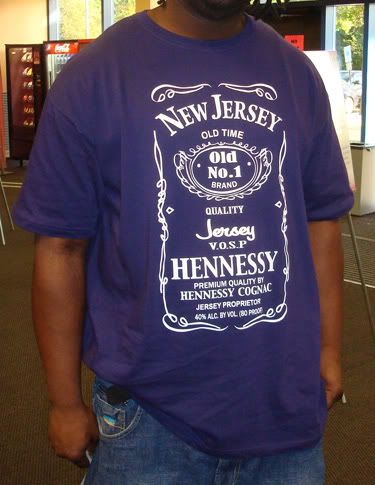 Nick from Trenton rocks his
New Jersey Jack Daniels & Hennessy mash up T-Shirt
Recently, I ran into Nick from Trenton, NJ who was wearing this cool New Jersey Hennessy Cognac t-shirt. The logo on the front of the shirt is a rip off of the iconic black label on Jack Daniels bottles. I did some Googling and couldn't find any info on the existence of actual bottles of regional Hennessy Cognac. There is a good chance that this shirt might have been made simply as a parody or possibly to promote Hennessy's work with Habitat for Humanity in various cities around the country.
"Cognac for the Community"
is an article that was printed in
Brand Week
last year and reports on the good work that Hennessy has done in Bergen County, NJ, among other places.