While strolling through the toy aisles at the local Wal-Mart, I came across this Imaginext toy which bared a striking resemblance to a certain cryptid from NJ. I couldn't decide whether Imaginext's Fuzzy Dragon was inspired by The Jersey Devil or a reject puppet from Eureeka's Castle.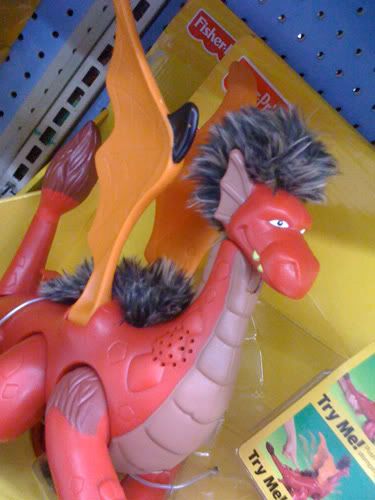 The Fisher-Price brand, Imaginext, has done a superb job with their toy line. If I was a kid right now, I'd have their DC Super Heroes, Pirates, and Space toys all on my Christmas wish list. After a full examination of Fuzzy, I snapped some pics with the iPhone and then headed home to continue my investigation. My research lead me to the official Imaginext website where I discovered there was yet another dragon that resembled The Jersey Devil! In fact, they offer an entire line of Dragons!
Here's the Six-legged Dragon:

Sure, Fuzzy and Six-legs can be construed as run of the mill dragons, but with a minor stretch of the imagination, these two dragons can easily qualify as Jersey Devils. Clearly, Fisher-Price did not want to tarnish their awesome toy line with an association to New Jersey.