Even though her face looks like she's trying to force out a really pesky dump whenever she sings, Glee's Lea Michele is May's Garden State Playmate. She's not full fledged Jersey though, she was born in The Bronx but grew up in Tenafly, New Jersey. Previous to scoring big with her role as high school singer Rachel Berry, Lea Michele was a promising young stage actress (showing your boobs really displays your acting chops), starring in productions of Spring Awakening and Les Miserables.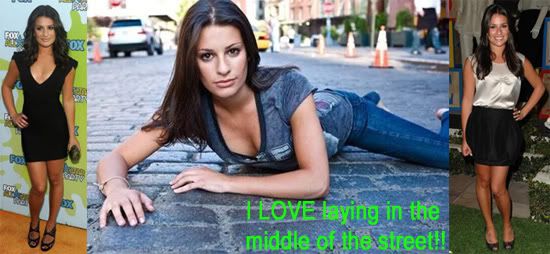 Since debuting last year, it didn't take long for Glee and it's stars to skyrocket to fame. I admit watching the original preview of the show in Hulu but I couldn't get through the first 10 minutes. It seems like the country is obsessed with hearing people perform music that isn't theirs. It's like everyone has the Karaoke virus. I blame American Idol. Hearing the cast sing Madonna and Lady Gaga songs doesn't impress me. OK, so I'm a party pooper, but sue me if I'd rather pop in my ear buds and listen to the REAL songs.
And for the record, in the world of The Sexy Armpit, "Gleek" can only describe a rambunctious blue monkey who hangs out with The Wonder Twins, but now, crazed fans of the hit Fox TV show are also calling themselves Gleeks. Zan and Jayna need to call their lawyer!