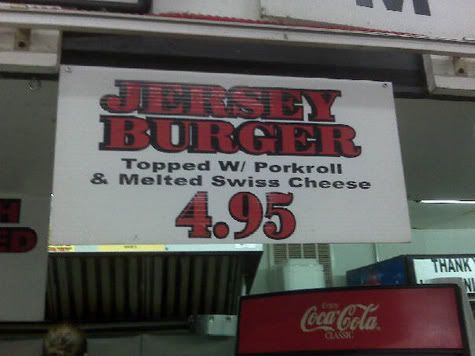 The Columbus Farmers Market features tons of stores that sell fresh produce, antiques, collectibles, toys, housewares, pets, candy, clothes, jewelry and more. All that shopping will probably make you hungry so naturally there's plenty of places to eat. During your visit you may want to stop and try The Jersey Burger!
As if reality shows and movies aren't enough, even hamburger joints have jumped on the Jersey bandwagon. Obviously, this burger ain't nothin' compared to the monstrous New Jersey Breakfast, but it's a nice appetizer in comparison. I would opt for American cheese over Swiss when eating pork roll, but that's just me.
For the best burger coverage check out my friend Tommy Salami's blog PluckYouToo.com and Brian and Allison's Burger Blog at EatinBurgers.com.