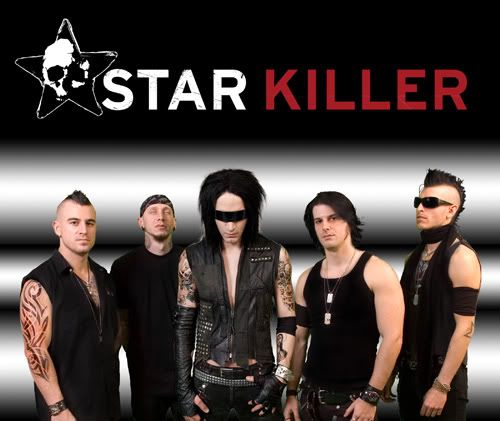 STAR KILLER Photo by Coco Alexander (L to R): Lou LaRossa, drums – Steve Perlmutter, bass – 
Jasin Cadic, vocals – Rob Hayder, guitar – Ian Krier, guitar 
Have you ever been invigorated by a feeling of accomplishment when you get a lot done in a really short amount of time? It's a feeling that New York City's ultimate industrial rockers Star Killer are extremely familiar with. Progressing at a breakneck speed, it's as if the band has taken a quantum leap, except Scott Bakula's not at the forefront, it's NJ born lead singer Jasin Cadic, who I spoke to recently upon hearing the news of their upcoming tour. "It's a combination of luck, talent, and a lifetime of networking and connections all coming together at the right moment" said Cadic. Star Killer will now be moving full throttle into a tour with CombiChrist.
Any band that has formed within the last couple of years would kill to be in Star Killer's boots right now. And although they are savoring these moments, Cadic mentioned that it isn't without added stress and responsibilities. For many rock bands, it's admirable to write a "To Do" list, but sometimes it's futile. In fact, I can probably tell you that most of them read like this: 1) Rock really hard 2) Get Super famous 3) Get crazy drunk with Lemmy 4) Bang a bunch of groupies. Well, I guess if you're going to have a to-do list that would be a better jumping off point than some bands start out with. I've seen bands come together, fantasize about stardom, practice a lot, but yet never even make it to the stage. In Star Killer's case, merely their 7th live show will be on a tour in support of CombiChrist, one of the most eminent electro-industrial bands. CombiChrist, who will be promoting their latest work "Throat Full of Glass," share a similar musical vibe with Star Killer which is credited to the bands roots.
This tour is reminiscent of Han Solo running into Lando on Cloud City as it reunites Cadic with old friend and former band mate Combi's drummer, Joe Letz. Several years ago Cadic and Letz started their first serious band, Handful of Dust. Cadic told the Sexy Armpit that Letz is still one of his closest friends and that the tour "reunites us in a musical setting which is very full circle and exciting." (Guitarist Rob Hayder of Star Killer was also in Handful of Dust for a number of years as well) Cadic expressed his appreciation for CombiChrist having Star Killer on the tour: "We are very fortunate and lucky that CombiChrist has given us this amazing opportunity. Combichrist is one of the best industrial bands out there today, bands would kill to be on this tour, and we don't take that lightly. We plan on giving it all we got on this tour." After their tour with CombiChrist ends, Star Killer has responded to the demands of their fans by setting up a few more big New York shows.
Their debut EP featuring the single "As The Sky Is Falling," has been downloaded in the U.S, and around the world. Their first live show was not your average rock gig. Star Killer debuted at the House of Blues in New Orleans on Halloween 2010 at the world's most badass Halloween party, The Endless Night Vampire Ball. After the overwhelming response from that show generated a positive buzz, packed shows in New York and New Jersey soon followed. From there, it's like they've been accelerating to ludicrous speed with no sign of slowing down. I asked Jasin if they were ready for the rocket ride and he replied, "Myself and Star Killer are ready for whatever the future holds, no matter how big, I say bring it!" Check out the CombiChrist tour with STAR KILLER on Wednesday, May 4th at Irving Plaza in New York City.
Star Killer's diabolical sounds of cosmic chaos are not only a favorite here at The Sexy Armpit, but they have also been embraced by Brian Basher at Hard Rock Nights Radio, The Metal Mish, as well as other college radio stations around the Tri-State area. Tune in and ask them for more Star Killer!
Can't stand that you only have 6 songs by Star Killer? Well, you have two options. Head over to their Reverb Nation page right now and check out an exclusive track "Echoes and Amputations," a track not on their EP. Or you can wait patiently until their follow up CD gets released. Jasin Cadic has confirmed that Star Killer will be returning to the studio this summer. More music from Star Killer is on the way!
CombiChrist with STAR KILLER Tour Dates
5/2 Norfolk VA             Norva
5/3 Baltimore MD         Bourbon Street
5/4 New York NY        Irving Plaza
5/6 Worcester MA         Palladium
5/9 Detroit MI                Harpo's
5/11 Minneapolis MN    Ground Zero
5/16 Portland OR           Hawthorne Theater
5/17 Sacramento CA      Ace of Spaces
5/19 Santa Ana CA        The Galaxy
5/22 Phoenix AZ            Nile Theater
5/23 Albuquerque NM    Sunshine Theater
5/24 El Paso TX              Club Peoria
5/25 Lubbock TX            Jakes
5/26 Dallas TX                South Side Music Hall
5/27 Houston TX             Numbers
5/28 San Antonio TX      White Rabbit
5/30 Jacksonville FL        Jack Rabbit's
5/31 Orlando FL              Club Firestone
6/1 West Palm Beach FL Respectable Street
6/2 Tampa FL                  State Theater
6/3 Spartanburg SC         Ground Zero
6/4 Atlanta GA                Masquerade