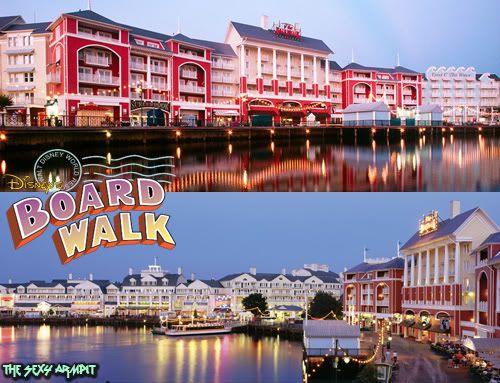 What's most likely the furthest thing from your mind when visiting Disney World: New Jersaaayyyy. The idea of taking a trip to Disney World is usually to get away from all the hustle and bustle. But, as many times as I've been to the happiest place on earth, I never realized that one of Disney's deluxe resorts is inspired by early 20th century Atlantic City and Ocean City NJ. So much for a magical getaway from The Garden State!
It seems the mouse house capitlized on their own "Boardwalk Empire" nearly 15 years before HBO aired their period drama. Opened in 1996 and located near Epcot and Disney Hollywood Studios, The Boardwalk Inn and its boardwalk have been compared to shore towns along the Northeastern coast of the U.S in the 20th century, but Disney specifically mentions Atlantic City in the description on their website.
The Boardwalk itself is an actual stretch of boardwalk on Crescent Lake built in the style of Coney Island and Atlantic City in their heyday. The Boardwalk features unique shops, restaurants, and the only microbrewery in Walt Disney World. Also, one of the restaurants is the ESPN Club, a modern sports bar. Got to give Disney points for accuracy. There's a couple of things you'll never have a problem finding in New Jersey: beer and sports bars.
Trip Advisor reviews for The Boardwalk resort are pretty high, but one complaint seems to come from people who stayed in rooms overlooking the actual boardwalk. Noise from Disney's Boardwalk is common since occasionally there are bands playing. There's also a boat that will transport you to the nearby parks and it blows a horn when it pulls in to the dock located on the boardwalk. If none of that bothers you then you might want to stay there on your next Disney adventure.
From the Disney World website:
"Disney's BoardWalk Inn is a Disney Deluxe Resort that captures the charm, whimsy and elegance of 1940s Atlantic City. Sitting along a boardwalk packed with amusements, the Resort offers dynamic views of activity below and of the glittering waters of Crescent Lake."

"Stroll along Disney's BoardWalk during the day to explore the unusual shops and restaurants. When the sun cools down, the nightlife heats up with street performers, food vendors, midway games and lots of live entertainment."