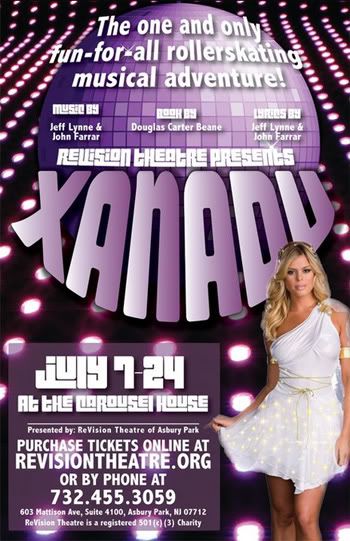 From BroadwayWorld.com:
"Based on the 80's Universal Pictures film XANADU which starred Olivia Newton-John, follows the journey of a magical and beautiful Greek muse, Kira, who descends from the heavens of Mt. Olympus to Venice Beach, California in 1980 on a quest to inspire a struggling artist, Sonny, to achieve the greatest artistic creation of all time – the first ROLLER DISCO–hey, it's 1980! But, when Kira falls into forbidden love with the mortal Sonny, her jealous sisters take advantage of the situation and chaos abounds. 
This hilarious, roller skating, musical adventure about following your dreams despite the limitations others set for you, rolls along to the original hit score composed by pop-rock legends Jeff Lynne and John Farrar, and includes, "Magic", "All Over The World", "Suddenly", "I'm Alive", "Evil Woman", "Have You Never Been Mellow" and "Xanadu", to name a few."
Although I've never seen the movie in its entirety, I'm going to see this play tonight. You must read the following sentence in your best inner Hulk Hogan voice: Whatcha Xanadu Asbury Park…When The Sexy Armpit Runs Wild On You?
For More Info and Tickets: