Geeks need their gratification. Just as the wise men brought baby Jesus gifts, and ancient peeps sacrificed stuff up to the Gods, in the case of geeks the world over, they also need to be indulged or they get a little cranky. Here's a little rundown of stuff that has satisfied my voracious geek appetite. In this first installment you'll read about things I've added to my collection lately, things I'd like to add to my collection, things I've recently received as gifts, food I've chowed down on, and events I'm planning to attend.
1. My 2nd favorite film of the Marvel franchise is Thor. My future mom-in-law got me this awesome Thor Pez dispenser! I have a small collection of Pez dispensers and this one fits in nicely beside Captain Jack Sparrow, Darth Vader, and The Incredible Hulk.
2. For my birthday my Dad got me the entire collection of The Muppet Show on DVD! Watching these shows is going to bring back so many memories!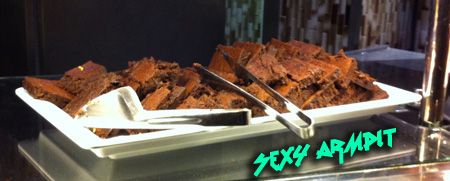 3. Who doesn't like stuffing their face once in a while? The absolute BEST place to do that in New Jersey is at Harrah's Resort Waterfront buffet in Atlantic City. That is where you will find The Absolute Greatest Brownies of All Time (among other delicious offerings.)
4. This might fall into the "why the hell did you buy that" category, but I've actually been following the production of The Witches of Oz for a long time. I tried watching it and it really isn't that good, but as a fan of Wizard of Oz and Return to Oz, I thought I might like this. Until the upcoming 3-D production of Dorothy of Oz comes out in a few years, I'll take what I can get. Clearly it shouldn't even be mentioned in the same paragraph as those previous films since it's on the level of The Asylum productions, but alas, I took a chance on it anyway. If you're thinking of checking this out, take into consideration that I saw Wicked on Broadway and didn't enjoy that either.
5. The Batman Files. When this ultimate book of Batman first came out it was priced at upwards of $100 dollars at some book stores. I've splurged more cash on sillier things, but for some reason I was hesitant on picking this book up. It was wise to wait because, as always, there was a pretty hefty price drop on the book. I got the book at less than half price. If you're interested – type it into Google shopping. Well worth it for hardcore Batman fans.
6. You know how people say "There's no such thing as bad pizza?" Well, I feel the same way about Doritos. Even the lamest gimmick Doritos, like the mystery flavor a few years back, were fine by me. I can't really get behind Doritos Jacked though. The whole idea behind them negates what Doritos are all about. They made these chips harder to create more of a crunch, but I'd rather not break my teeth, thank you. And even though they amped up the amount of Dorito dust on these suckers, the actual chip is twice the size of a normal Dorito chip. They are more like the size of a restaurant style Tortilla chip. You need to take a few bites of one chip rather than stuff a whole chip in your mouth. Bah. Whatever. If you're going to try them, I suggest the Smoky Chipotle BBQ flavor if you're into that type of thing.
7. Mighty Man and Yukk. One of my favorite cartoons of my childhood. The concept is completely insane. This dudes dog is so ugly that the dog has to wear a doghouse on his head and the the dude shrinks down to a super tiny size and becomes a superhero. Totally ridiculous, but I love it and have been looking for it literally forever. Found a collection of every episode on DVD taped off of Boomerang. I'll take what I can get considering there hasn't been an official release.
8. Finally my friends in one of my favorite bands The Dirty Pearls are celebrating the release of their debut full length album at the Gramercy Theatre in New York City on May 5th! The Dirty Pearls will be performing along with Star Killer and other special guests! If you don't have plans for Cinco De Mayo or you are tired of the typically mobbed parties at the local Jose Tejas. GET YOUR TICKETS HERE: http://thegramercytheatre.com/event/000048677B6062DE