What I loved about the movie
Hitch
was Kevin James' dance practice sequence. Unfortunately none of Kevin James comic relief was present in director Andy Tenant's 2010 feature,
The Bounty Hunter
. With the supporting cast including the likes of comic actors such as Jason Sudeikis, Jeff Garlin, and Christine Baranski, it didn't really make me laugh much. But luckily, it wasn't as bad as Tenant's 2008 movie,
Fool's Gold
. But, since today is her birthday, I figured I'd post about a film starring Jennifer Aniston…and New Jersey!!!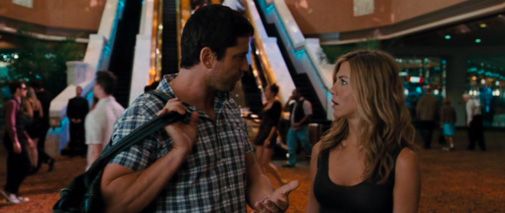 Butler and Aniston in front of the Taj Mahal's main escalators
There's wacky hijinks galore as the former Friend plays Nicole Hurley, a reporter who is targeted by her ex-husband and bounty hunter Milo Boyd (Gerard Butler.) Hurley jumped bail and Milo is pursuing her in order to gain a big pay day. In the mean time we're supposed to be on the edge of our seats to see if all this hot and heavy action will cause them to rekindle their romance.
Considering the abundance of New Jersey appearances, I still couldn't bring myself to love this film. I definitely didn't hate it either. It had some real potential to be a fun time, but it's ulterior motive to be a rom-com is what keeps it from getting to the next level. It's no surprise that I dozed off toward the end of the film, but I saw enough of it to make the assessment that it was steaming with mediocrity.
Butler does shine as Milo though. His snarky attitude and arrogant overtones work as a scoundrel, a Han Solo-type of guy. Butler brought Milo to life in a realistic way, but all gets weird when we see his macho bravado is all a front and he's still actually in love with his ex-wife played by Jennifer Aniston. As Hurley, Aniston seems like she'd rather be sunbathing on some exotic beach getting photographed by hidden TMZ photographers. Even with that said, it's hard not to like her…or LOVE her. Especially when she's handcuffed to the bed. YUUUUP! That's in the movie!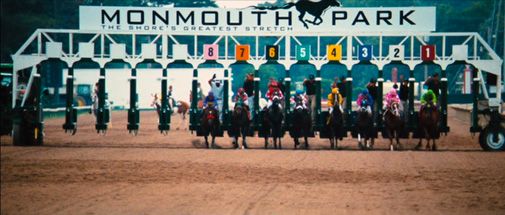 The film would like the viewer to believe that Monmouth Park Racetrack is in Atlantic City
If you're familiar with Jersey and you've seen the film, you probably noticed that the horse racing scene took place at Monmouth Park. The sequence pulled me out of the film because it was made to seem as if the race track was actually in Atlantic City and a line in the film confirms it. It makes more sense to the viewer, after all, but the filmmakers probably assumed most viewers had no idea that the Monmouth Park race track is over 80 miles away from Atlantic City. That's easily overlooked.
Making up for any of the negatives here are some gorgeous shots of A.C. In fact, The Bounty Hunter contains probably the best modern-day footage of the Atlantic City shoreline in movies. Most of the films I've covered here at The Sexy Armpit that have depicted A.C are much older and America's playground was clearly nowhere near as impressive as it is now. If only Jersey had nicer weather year-round, A.C would be as big of a travel destination as Las Vegas. Look out for scenes in the Taj Mahal, the White House Sub Shop, the boardwalk, the A.C Expressway, and numerous mentions of The Borgata.