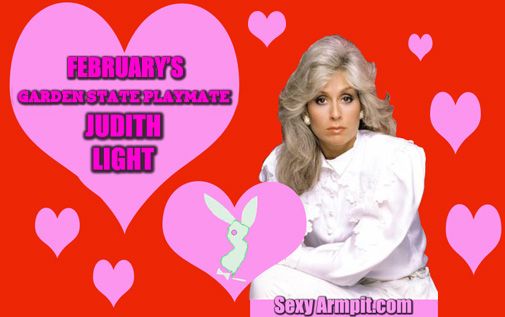 "ANGELA!" In my head I can hear Tony Danza's rough voice ascend into a higher register as he replies to his boss with some mildly comedic response. I grew up watching
Who's The Boss
 and Judith Light played the uptight, '80s yuppie Angela Bower to perfection. There were times when I lost a dream or two, but I found the trail and at the end was February's Garden State Playmate, Judith Light!
Born in Trenton, NJ, Judith Light was starring in TV shows well before she broke out with Who's the Boss. In fact, all throughout the late '70s and '80s you could catch her on TV pretty much any day of the week. She appeared on One Life to Live, St. Elsewhere, Remington Steele, Kojak, and Family Ties.

One of her most well received performances was in the 1989 made-for-TV movie The Ryan White Story, about a 13 year old hemophiliac who contracted AIDS. In 1999, Light bravely took on the role in the off-Broadway show Wit where she shaved her head completely as she played a "literary academic dying of ovarian cancer" according to IMDB.
More recently, Light has appeared on Law and Order SVU, Ugly Betty, Nurse Jackie, and now you can catch her on one of my favorites…DALLAS! In the TNT reboot of the long running show, she plays Judith Ryland, the rotten and controlling mother (mother? really?) of the 2nd season's villain.
*She attended St. Mary's Hall in Burlington, NJ. (IMDB)