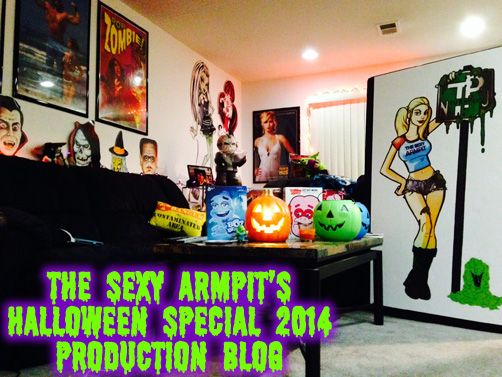 Now is the most logical time to impress upon you that you should check out our 1st and 2nd Halloween specials if you've never watched them. They do have aspects that will continue in our upcoming 3rd special, so watch 'em on your smart TV right before you view your next horror movie!
[youtube http://www.youtube.com/watch?v=iOhL19V-TfM][youtube http://www.youtube.com/watch?v=wJ_R7kXLGZc]
Back to the production update:
There was a lot of positivity and momentum going on in the last production update.
This one is more filled with rage and furious anger.
What I intended on being the final day of filming actually turned out to be disastrous, aside from an wondrous trip to Smashburger (had the chicken avocado club in case you were wondering!) It was no fault of the people involved like Mike, his wife Lauren, and Miss Sexy Armpit. It wasn't my fault either, it was the camera. It seems to gave gone bye-bye. Not disappeared, but more accurately, gone to shit. It's a realm that I don't think it will ever return from.
Regardless, after I transferred the footage the computer, I watched it back…stupefied at what I was viewing. Each piece of footage was incredibly pixelated and distorted. If I was making a found footage movie that was recorded on a half broken GoPro camera, this would've been tops. I even tried converting the footage, but there was no fixing it since it seems to definitely be an issue within the camera itself.
So, the footage was fucked, and I felt that I was as well. Nothing like a catastrophe like this putting a huge damper on forward progress and what little motivation I had at that moment. I won't feel fully in the game until we get back on track with the all the footage in the can.
Looking back, it makes this whole thing seem like more of a struggle, and it definitely IS. There's no embellishing here. Considering there's no budget, and a fair amount of arguing, the resentment of Jay factor is rising amongst those involved. The only thing I can promise is that when it's done, the crew and YOU will be moderately entertained. That is what will redeem me here, I hope.
Fingers crossed, tomorrow we'll complete our re-shoots with a brand new cam. After that it shouldn't be too long before I can unleash The Halloween Special 2014 to all of you. 
As far as running time, we are looking at pushing 25-30 minutes and I previously mentioned in the last post, that is way too long in my view. But there's too much good stuff that it's not getting chopped to hell. Let's face it, we don't get a limited edition Scream Factory blu-ray so I'm gonna make this one count! 
Also, it'd be great if you want to incorporate it into an October horror-thon, like watching it before ohhh, say…Halloween 2 or something, of course that's just a suggestion, I don't mean you should actually do that, except no, I DO MEAN EXACTLY THAT. PLEASE.
Cursed footage. Raging tension. Heated arguments. This could be the basis of next years Halloween special. Bah, who am I kidding, I already have 5 ideas for it.
I truly appreciate everyone coming together to help out when this really brought down all of our moods. On a lighter note, I can report that this has been a real team effort. Lots of our online friends have pitched in to help, and even some surprise guests that went out of their way to make appearances both on camera and off. You know who you are, and you will all be thanked heavily in the credits! This aspect of it is really going to make this special the most monumental installment so far. My original vision for these was exactly that – a throwback. I'm all about including guest stars and hijinks much like some low budget TV special you might have seen in the '70s.
Stay Tuned and thanks for hanging in there! I will not rest until it's complete!