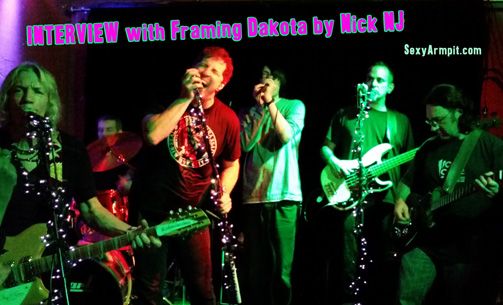 An interview with Framing Dakota conducted by our guest writer, Nick NJ 
Yes, the above is true.
Psychedelic Love Pop
, and that's the best description of the amalgamation that is Framing Dakota. Taking it's influence from a myriad of musical influences, from 60's icons such as The Byrds and The Doors to crooner Tony Bennett, the current lineup consists of Glen Vistica (vocals), Stephen McManus (12 string guitar), Patrick Carbone (6 string guitar), Walter Ullrich (bass), and Scott Wilson (drums).  
Formed in the early 1990's, the group has withered a near record deal, the changing tide of musical trends, and a breakup. However, after reconciling a few years ago after a ten year hiatus, the New Jersey based band reunited and discovered their passion for music, touring, and each other. With an EP available as a digital download thought their website and club dates on the horizon, I recently caught up with them at a band rehearsal to explore the origins of this (nearly) lost eclectic band. 
NJ: Where did the name come from? 
GV: I wanted to name it Dakota. But it didn't sound hard enough. 
SM: We arrived at Here's the Bullet, but what happened was in the mid 90's, this guy on the Empire State Building shot these people. And the press was all with this guns and bad stuff, and we were called Here's the Bullet. And we thought, "This is bad. This is just bad." True story. We decided, at that point, to get rid of the bullet name. We were changing sounds.
SW: We used to sound more heavier, really heavy.
GV: Well, that was a different band.
SM: We were getting more with the twelve string, the lighter stuff, more melodic. And that's what really drove us into morphing into Framing Dakota.
GV: I found the name in a book (based on Native Americans). I wanted to play off that, that Indian spirit. We got back together, everyone agreed, and it felt great, it felt fantastic. We all discovered how much we missed the music, and the love we have for each other. So that was four years ago, and then we started to write again.
NJ: How does the writing process work? 
GV: Usually, one of these two guys (Stephen and Pat) has a lick, we go off of it with a verse and a chorus and I rearrange it.
SW: Our songs change a lot. 
GV: I usually end up writing the lyrics, but everyone contributes to the music. Some of the songs were written fifteen years ago, and they sound better because we sound better.  
SW: There's a lot of creative freedom.
NJ: What would you call your sound?
PC: Psychedelic love pop. 
GV: We can't really describe ourselves, what we sound like. I usually say 60's meets 80's and 90's. It's tough, it's really tough to categorize what we sound like. 
SW: Reviewers have said that, that (our sound) is tough to categorize. 
NJ: What are your musical influences? If you had to pick one that influenced your sound, who would you pick?
SM: The Byrds.
PC: Neil Young, Steven Stills, The Church.
SW: There's so many great jazz drummers, but musically, a lot of 70's bands.
SM: Y'know, if there was one decade that fired all of us up, it was the punk stuff, the energy of that. That's the fuel.
PC: It's almost like Method acting when we play, and that's why I like it (the band), you get a wide range. Sometimes we can play soft, and then other times we can really kick it. 
GV: Tony Bennett, Chris Isaak, Bryan Ferry, Raul Malo of The Mavericks, Jim Morrison, Ian McCulloch, y'know, people we grew up with. Morrison was a big influence on me.
PC: We all have influences, and some of them are similar, some of them are different, but really it meshes together and it's its own animal, and that's Framing Dakota, it's own thing. 
NJ: You guys have played a variety of venues: The Saint in Asbury Park, Northern Soul in Hoboken, and even Macy's. 
SM: And hospitals. 
GV: Yes, we dig playing benefits. As long as we like the cause, we're all for it. But yeah, we'll play almost anywhere that has the cred.
NJ: You play mostly in Jersey?
SM: We're definitely Jersey based, but we're looking into expanding into the neighboring states.
NJ: So you have an EP that was released last month?
GV: Yes, last month, digitally. And the physical copies soon.
NJ: How do you feel about the years you've all been together, then the layoff, and the reunion? Do you feel that layoff helped you musically?
GV: Yes, we sound a lot better and we're a lot better with our craft. We loved playing back then, but we had someone representing us to get a record deal, so it got cloudy at times. Now, if something happens, great, but we keep playing. We love to play. I think that's what makes us, the emotion, the charge, the energy.
PC: I loved playing bass back in the day with the band, but I really love playing guitar with this guy over here (SM). I think me and him got something special going on together, the way we kinda weave the guitar lines around each other. We're both doing a lot of cool stuff, but we're not stepping on each other's toes. We keep it interesting while we're playing. I dig what we're doing.
SM: Yeah, and create songs, new tones and compositions. 
NJ: I notice when you guys play, you play with the same level of energy all the time.
GV: I don't think we know any other way to play. Some nights, someone might be tired and it changes things a little bit.
SW: From my experience too, being with a lot of bands, including this one back when we were first together, I pulled back depending on the venue if it called for it. Never worked. It came across better and plays better when you put more emotion into it, even if it's a little on the loud side or something. You let go of that and just play, you get better results. 
GV: I think it's natural to feed off the energy. If people are digging the set, like at our last show, then we connect with the people. That's what's really special. 
WU: I've known Pat for 39 years, and these guys are great. I enjoy the music. I liked it before I played it, and I'm having fun. 
Framing Dakota is a step outside of the box, yet is firmly rooted in the familiar world of rock n roll, just with their own aura. It's not just about the music; it is also about the fans, the emotions, and the love. 
Next up, they'll be playing Rock to Stop Diabetes, a concert to benefit the American Diabetes Association on November 15th. For more dates and other news, visit their website at

framingdakota.com

.