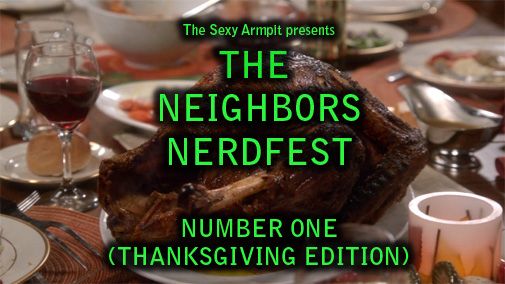 One of the themes of Thanksgiving is sharing your leafed-out dining room table full of intricately prepared foods and adorned with crafty centerpieces the kids made at school with all of your family and friends, and the occasional drunk uncle or nomadic cousin who tends to show up randomly, but only if it's a leap year. I'm not much of a cook, so this year I'm serving up some nerdery as a gesture of thanks to a show that's been cancelled by ABC,
The Neighbors
. Unfortunately, if that nomadic cousin
does
stop by, the chair you usually leave open for him will be occupied this year, so he's S.O.L.
It's only been a few months since it's cancellation was announced, but The Neighbors deserves much more reverence than it received initially. I've been meaning to come up with a way to properly memorialize this wonderful show, one of my favorites of the past few years, and I've finally figured it out.
This post marks the first installment of a recurring column dedicated to random episodes where I'll point out some of my favorite stuff from each episode. This could include favorite quotes, gags, jokes, scenes, and basically anything I found amusing.
And now a very brief explanation on why I was inspired to start this column. The sharp writing and likable cast on The Neighbors had a lot to do with how I got so wrapped up in it. After the first couple of episodes aired, I wasn't hooked, but that's so typical of me. It wasn't until I continued watching my buildup of DVR'd episodes that I really got where they were going with it. The creator and writer, Dan Fogelman, is a Jersey guy and he's damn proud of it, hence the alien neighbors in New Jersey plotline. What's not to like? Originally I thought that this theme had been done before, but this show is influenced by tropes from all kinds of classic shows with a nice hefty dose of sarcasm and relevant pop culture references that impressed the hell out of me.
Would I have been as in love with this show if it weren't for the New Jersey setting? I can't say the Jersey aspect makes a huge impact on the show, save for a few license plates and mall mentions, and it's not like the kids from Jersey Shore live next door, they're actual aliens. What really makes a huge impression is the cast whose chemistry is a dream come true for the production. The casting director has to be commended. It sounds preposterous, but all the main cast members make me laugh. No exaggeration, Jami Gertz is brilliant in this role and she's never been properly complimented for her versatility. Plus, she's still a hottie. I had such a crush on her when I was a kid. F*ckin' STAR!
There's a lot more I could say about the show, but this is supposed to be a recurring column, so I won't blow my load of commentary prematurely.
The Weavers upgrade from an apartment in Bayonne, NJ to a town house elsewhere in New Jersey. They come to find out their neighbors are aliens who have inhabited their gated community and taken on human bodies until they can get back to their planet. The alien family, The Bird-Kersees, are all named after famous American sports figures. With that out of the way, HERE WE GO!
Here's my favorite stuff from EPISODE 8 
"THANKSGIVING IS FOR THE BIRD-KERSEES"
Originally aired: November 14th 2012
The Weavers are trying to weasel their way out of having Marty's parents over for Thanksgiving because they always ridicule him and disparage his wife Debbie for making shitty Turkey. Marty tells his parents that "The oven is broken" and they want to cancel.
After Marty gets offended that his dad is insulting him and calling his new place a "condo," he feels the need to prove to his parents that he has a nice new town home. Ultimately, he reneges and re-invites them only to find out that Debbie has invited their neighbors, the Bird-Kersees, over as well so they can experience their first Thanksgiving.
This episode solves mystery of the crop circles:
"We live in New Jersey I drive a mini van, I'm built for fine." – Debbie Weaver (Jami Gertz)
Marty asks his Dad if he'd like to have a tour of the town house and his father looks around and replies, "I just took it, maybe a nice cold beer can take a tour of my mouth" – Marty's Dad, Dominick is played superbly bitter by Stacy Keach.
"AWESOME, I always wanted to wear genocide!" – Amber Weaver in reply to receiving the nifty homemade Thanksgiving sweater that her grandmother knitted for her
Abby, The Weavers poor daughter astonished and disgusted expression upon seeing the turkey sweater her grandma gave her:
The kids then take kitchen utensils and beat the hell out of the evil sweater: "We have to kill the sweater!"
"She's in the car pouting and you're eating Meersh-mal-ow out of a bag." – Reggie Jackson's pronouncing Marshmallows in the most awesomely wrong way possible.
"Thanksgiving is HELL. The only good parts are the day before when everything is possible and the day after when everyone goes home. In between it's just a feast of self loathing and gluttony with a side of shame and all you can do is just hunker down and accept it." – Debbie Weaver
"Better crack a window Theresa it's a long way home and that turkey's going right through me" – Marty's Dad as he and his wife depart another disastrous Thanksgiving.