Don't read this post and start thinking that ALL Jersey girls look like Ali Larter, because unfortunately that just isn't true. What IS true is that many of the characters she plays possess traits of a Jersey girl. For Larter, a native of Cherry Hill, NJ, acting like a badass seems to come naturally.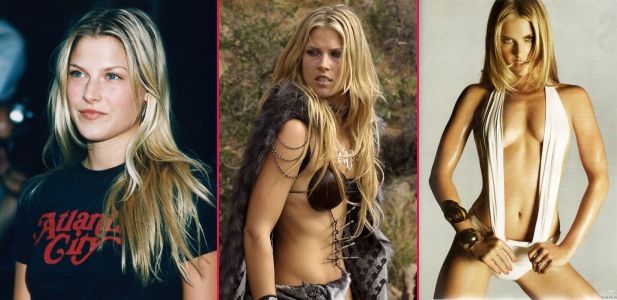 Her resume has caused many a geek to cream their pants. Back around '99, those same geeks might have also asked their girlfriends to wear whip cream underwear. If you weren't aware of the spray on bra and panties that Larter redi-whipped onto herself in Varsity Blues, then you must've been buried under falling rocks in the Batcave during a cataclysmic earthquake. You're forgiven if you have that clause in your movie watching contract that prohibits your eyelids from opening if there's a movie or TV show with James Van Der Beek on. I don't expect anyone to cop to knowing that the name of her Dawson's Creek character was Kristy Livingstone, but I bet all the loose change in my BK ROTJ glass that you know Niki Sanders, her split personality psycho bitch from Heroes. If you missed her other roles that have made fanboys' dreams come true all over the world, here's some of the other films she's starred in: Final Destination 1 and 2, Resident Evil: Vegas Vacation (Extinction), and my personal favorite Jay and Silent Bob Strike Back.
It's a good sign that Larter is already into her 30s and still looking sexy. Hollywood usually kicks you out of town when you hit 27. Is hotness enough to help Larter's career continue to thrive? Recently, Larter starred in Obsessed, a film in the vein of Fatal Attraction. For an indication on how good this movie is, just try to comprehend that even Peter Travers of Rolling Stone gave the film a zero. I'm sure the reviews aren't any worse than those for her magnum opus National Lampoon's The Stoned Age a.k.a Homo Erectus.

No bad reviews for Ali Larter here at The Sexy Armpit, only adulation. Not only does she freely admit she's from New Jersey, but Larter is also quoted on her profile on IMDB as saying, "I hate pretty-looking boys. I'd rather have a guy with a potbelly than one who's in the gym all the time and watches what he eats." Who cares if she's made some stinkers, her stock just skyrocketed!